Our MiniTag iDs make the perfect cycling Emergency ID
Apr 22 2017
Our MiniTag iD tags are really popular because the convenient, durable PVC tags are available in a range of colours and designs. At £6.99 for 3 tags they are affordable and the tags are personalised with your emergency contacts and medical information.
Since we launched our MiniTags we have had lots of useful feedback from keen cyclists and triathletes and a number sent us pictures of their MiniTag iD attached to their bike using race number holders. What a great idea! Once attached you can't forget your ID so you have the peace of mind of knowing that with the MiniTag ID tag permanently attached to your bike you are always carrying your emergency contacts and medical information.
We have posted and tweeted lots of pictures of the MiniTag iD attached to our bikes with the Bike ID tag holder and many of you have asked "How do I get hold of the race number holders?" Well here they are on our website - Click to view the Bike ID Tag holder - lightweight 3D printed race number holders, road tested by professional cyclists and triathletes across the world. So as well as gaining peace of mind with your ID on your bike you also give your bike the race hardened 'pro look'!
Here's our simple guide to the affordable MiniTag emergency ID for cyclists:
Step 1 – select the colour and design for your MiniTag iD Click to view the MiniTag iD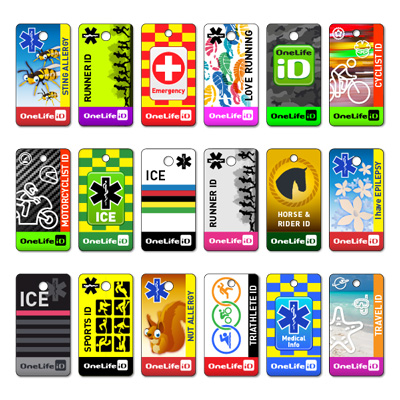 Step 2 – add your choice of emergency ID information. You can use our 'What to put on your ID' quick guide Click to find out more.
Step 3 – Purchase one of our Bike ID Tag holders iD Click to view the Bike ID Tag holder
Once your tag arrives:
Step 4 – Attach the race number holder to your rear brake calliper and attach your MiniTag iD
Step 5 – Attach the ICE Information Carrier alert sticker to your helmet. Available in a range of colours these can be attached to your cycling helmet an/or bike to alert emergency services to the fact that you are carrying an emergency ID Click to view the ICE Information Carrier Sticker
Competition
Throughout April and May of 2017 we are offering the chance for customers to win a Stealth Squadra iD as used by Team Sky professional cyclist Luke Rowe.
There are 2 chances to win!
1. Take a photo of your MiniTags in action - on keys, in your laces or even your bike... (tag the photo on #instagram & #twitter: @onelifeid, or post to the OneLifeiD Facebook page) or alternatively,
2. Pick up a pen and paper and design your own MiniTag... (using the template shown below)
The competition will finish on the 31st May 2017 and we will notify the winners by the 2nd June.