OneLife iD team up with British Cycling to offer Cycling ID
May 27 2016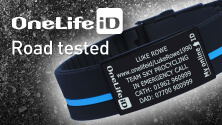 We have teamed up with British Cycling to offer their members discount on the OneLife iD wristbands and products. The offer is available to all British Cycling members throughout June 2016.
The OneLife iD range includes ID wristbands, tags and cards that are suitable for all ages and cycling activities. So whether it is the Tour de France, sportives, training, riding to work or enjoying the lanes we are sure that one of the OneLife ID products will meet the needs of many cyclist's and provide additional 'peace of mind' for their family.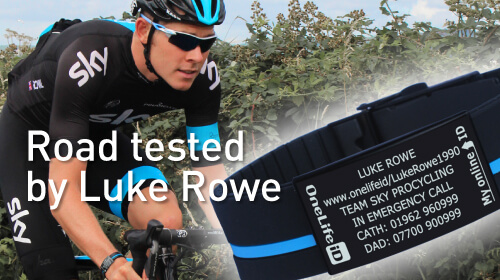 In an emergency, OneLife iD wristbands provide emergency responders with immediate access to critical medical or contact details. Wearing an ID wristband or ID Tag ensures:
Prompt & effective treatment from emergency services
Quick communication with emergency contacts
Peace of mind for cyclist and their family
The complete Cyclist's ID, OneLife iD wristbands can be engraved with the user's choice of personal information. OneLife iD provides a complete emergency identification package that includes:
Premium, 'road tested' product range
Laser engraved with personalised emergency & contact information
Choice of styles, colours & designs
Complete Cyclists' ID with FREE:

online ID profile for storing details & documents
mobile phone emergency lock screen
helmet alert sticker
Click here to find out more by watching our video.
For peace of mind for you and your family - don't leave home without it.