Dec 14 2015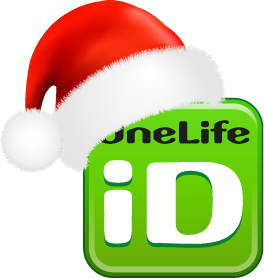 OneLife ID bands make the perfect Christmas Gift. So whether it's a custom engraved ID band or a OneLife iD Gift Card you will need to order by midnight on Sunday 20th December to ensure your ID or card arrives for Christmas.
For our Sports and Medical ID bands we offer a wide range of colours and styles so you can select a strap or band to match kit, bike, helmet or favourite team. Then specify the personalised engraving with key in case of emergency (ICE), medical or contact details. If you are not sure about what to get engraved or the colour choice then consider purchasing one of the OneLife iD Gift Cards. Available in £15, £20 and £25 values, they are easy to use and will cover the cost of most of our ID band products Freestyle ID £16.49 (engraved tag and slimline silcon strap in choice of 3 sizes), Adventure ID Black Tag £18.49 (engraved black tag and 20mm wide silcon band) or the adjustable Squadra and Squdra Stealth (black tag) range with watch clasp and distintinctive 'thin line' strap from £21.99.
Whatever you decide, the OneLife ID band provides an ideal gift ensuring peace of mind and providing all the necessary emergency or medical allert information the wearer needs.
For the sanity of our Christmas helpers please dont leave it to the last minute. If you are really stuck after midnight on the 2th we can process e-gift cards so just drop us an email at info@onelifeid.com and we should be able to help.