Christmas Delivery Dates for Sports ID bands
Dec 14 2016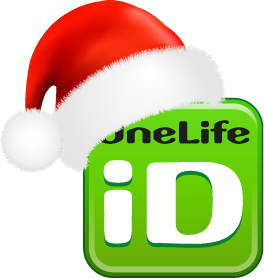 OneLife ID emergency and sports ID bands make a perfect Christmas Gift. To ensure Christmas delivery, orders for a custom engraved ID band must be received by midnight Sunday 18th December and for a Gift Card latest orders by 10am Wednesday 22nd December.
For our Sports and Emergency ID bands we offer a choice of styles and colours so you can choose a band, strap or ID tag to match bike, kit, helmet or club. Then add any personalised engraving including emergency contacts or medical information. If you need help on what information to include, please read our Tops Tips guide on 'What information to put on an ID'. Click to find out more.
Still not sure about what information to include or what colour to select, then the easy option is one of the OneLife iD Gift Cards and let them decide colour, style and engraving. Click to view our Gift Cards. Available in £15, £20 and £25 values, they cover the cost of most of our ID band products:
Whichever you choose, the OneLife ID wristband and tags provide the perfect gift ensuring peace of mind and providing all the necessary emergency or medical alert information the wearer needs.
To help our Christmas Elves please try to order before the deadlines. If you are really stuck after 10am on Wednesday 22nd December we can process e-gift cards so just email info@onelifeid.com and we should be able to help.