10% off OneLife iD with early Christmas orders
Nov 21 2016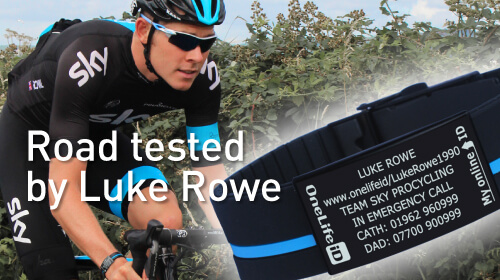 A OneLife iD sports wristband, with "in case of emergency" details, makes the perfect Christmas Gift for the cyclist, runner or triathlete in your life and provides peace of mind for friends and family. Order before midnight 1st December with our Christmas Discount Code EARLYBIRD16 and get 10% off any OneLife iD wristband, tag or card.
OneLife Sports ID bands are used by top athletes, training and competing in some of the world's toughest sports events, including this year's Tour de France. The IDs come in a range of styles and colours, and are personalised with your choice of emergency contacts and information.
To get your perfect Christmas Gift all you need to do is select your choice of ID wristband using our quick guide below and add the personalised engraving you require. If you can't decide then why not buy one of our Gift Cards and let them choose colour and engraving?
Here are some Christmas Gift recommendations featuring our most popular Sports ID bands:
Remember to use the 10% off Discount Code EARLYBIRD16 before midnight 1st December. (Order before midnight on the 18th December to guarantee Christmas delivery.)