New Emergency ID Card for Club Members
Apr 06 2017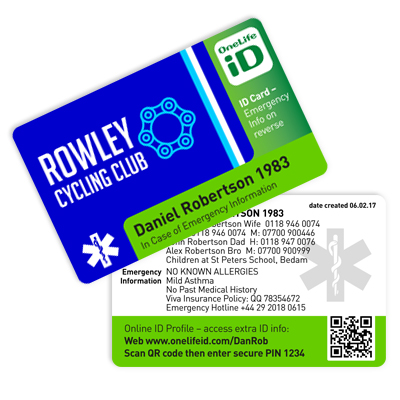 OneLife iD has launched an In Case of Emergency ID and Member Card. Available with club colours, team logos and sponsors the card is a great way to show membership, access club discounts and facilities, and carry your emergency contacts or medical information.
After a number of requests from cycling, running and triathlon clubs for a Club Member Card with Emergency ID information we have re-designed our popular Medical ID Card to include the club colours and logos of our Custom Team ID MiniTags.
The result is our Member ID Card which can be adapted to include your club, team or organisations colours and logo on the front with up to 10 lines of personalised emergency contacts, additional information and medical details. If you need to know what information is helpful to emergency savers then read our handy information guide.
Craig Wilson of OneLife iD said " We were receiving an increasing number of enquiries from clubs who felt the need to encourage members participating in their events, runs or cycle rides, to carry emergency information. Their view was that with a OneLife iD Club Member Card they could combine a Membership Card with an Emergency ID."
Whilst the Credit Card ID is made of the same durable PVC as our Medical ID Card we have made a number of changes to the layout of the card so that the emergency information on the rear of the card has larger text for ease of reading and the front now includes a customisable headline that can clearly alert responders to emergency instructions or key medical information.
If your sports club would like a Membership Card with Emergency ID information then please email info@onelifeid.com for more information. We can work with you to design your card and include club colours and logos.
Every OneLife iD includes the innovative online ID profile that can include extra information and documents and can be updated whenever your details change.