Cycling Active reviews 'funky' OneLife iD Sports ID band
Oct 16 2012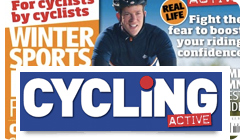 Cycling Active is targeted at road cycling enthusiasts (largely non-racers) and provides news and reviews for all levels of interest, from the serious 'challenge' sportive rider to the slightly less committed, fair weather rider. It also includes route guides, reliable fitness advice, riding technique and inspirational features for road cyclists.
The November issues (out on October 12th) featured a great review of OneLife's Active iD (page 21) but also made comment on the whole OneLife iD concept and our forthcoming sticker products.
We think they succesfully highlighted the need, benefits and also managed to touch on the fun and multi-functional nature of the iD. See what you think.