OneLife iD wristband review in 'Life in the Saddle' cycling blog
Jun 21 2016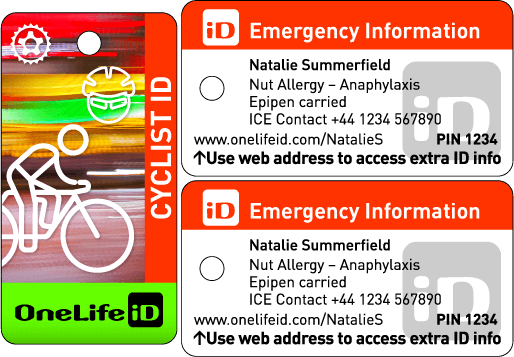 It is helpful to find out what others think about our products and to get an independent view of our sports ID wristbands and cycling ID tags. So we turned to experienced cyclist and blogger Tim Wiggins for some feedback. Tim had reviewed our products soon after our launch in 2102 so he was well placed to let us know how our products had progressed. Here's what he had to say......
Over the past year, I've written a number of posts on my 'Every Ride Carry(s)'; both for a typical road ride, and for XC mountain biking. One thing that I think I failed to mention in both of them though, is that I always carry some form of ID in my ride wallet; normally in the form of a OneLife iD card.
The latest range of OneLife iD wristbands and tags, makes carrying some form of identification even easier; whilst also being more easily found by a potential Good Samaritan.
First, there's the Stealth Squadra iD wristband. This uses a watch like clasp, and a wide rubber strap, to provide a secure and smart looking wristband. You can choose up to six lines of information to display; and one of those is the URL for your online profile, where you can house even more relevant detail for medical services.
The smaller brother of the Stealth Squadra iD, comes in the form of the Freestyle iD Black. This is my favourite from the new collection, as it's super discreet; yet it can contain all your vital info. You can personalise the five lines of engraving on the metal tag, which should provide you with space for necessary contact and allergy notes.

The final piece is the OneLife iD Cyclist MiniTag set. I've taken to putting one of these on my riding packs and bags. It is a neat little credit card style key fob, which doubles up as an ID and possessions tag. Ideal for travel, and valuables.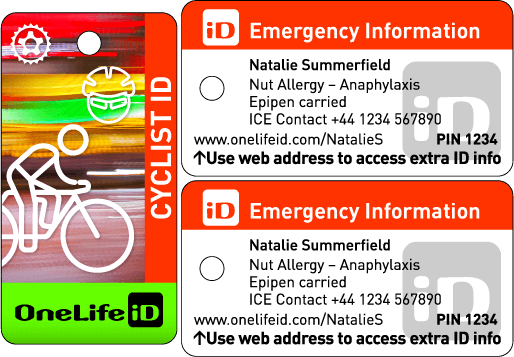 These three identification options are low cost, smart and discreet. Yet, they could prove invaluable in the event of an accident. Well worth checking out the range.
View the full OneLife iD range here.
To find out more about Tim Wiggins and his 'Life in the Saddle' blog for news, reviews, nutrition and advice go to http://timwiggins.blogspot.co.uk