New Emergency ID band with nylon NATO style strap in 12 colours
Jun 09 2017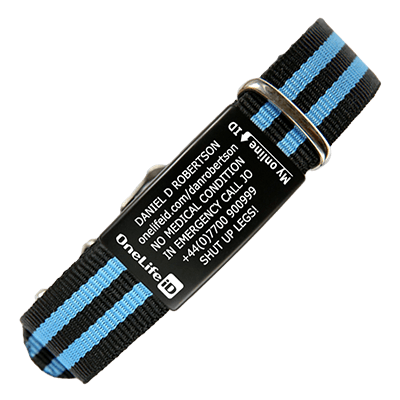 You've been asking for fabric style wristbands for our emergency ID bands so we have added to our range the durable NATO style nylon watch strap in 12 colours and designs. The steel ID tags are engraved with your emergency contacts or medical ID information.
In response to your request we have added a new emergency ID wristband to our range. By using the military designed NATO watch strap in durable nylon, OneLife iD are able to combine it's proven comfort and durability and the wide range of colours available, with our personalised ID tags in both stainless steel or black anodised steel.
The range of 12 colours includes discrete colours so that your emergency ID can be worn at work and bright colours that make your medical ID highly visible. You should be able to select a Sports ID that complements your club or sports kit.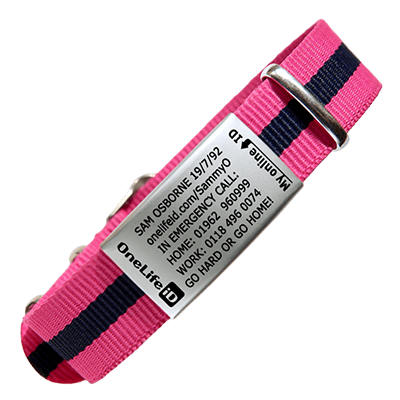 These In Case of Emergency (ICE) ID wristbands with nylon strap can withstand water and sweat, making them ideal for those with an active lifestyle or those looking for a comfortable medical ID bracelet. The durable one-piece military designed strap securely holds the steel ID tag and it's important emergency information in place on your wrist.
The band is finished with a silver-tone buckle and two rings to secure the strap end. They are adjustable to fit most wrist sizes from children to adults.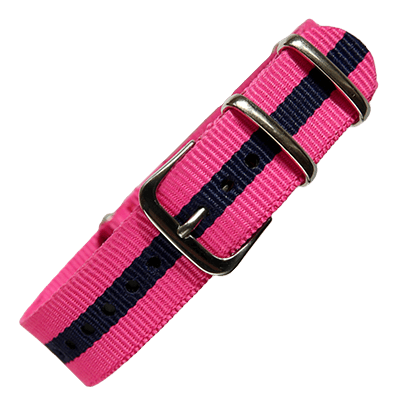 ID tag engraving options for personalised information include:
ID tag with up to 5 lines of text for emergency contacts or medical alert information with up to 20 characters per line.

Distinctive QR Code includes your unique QR code that when scanned connects to your OneLife online ID profile. Plus the ID tag can be engraved with up to 4 lines of emergency information with 14 characters per line.
Each ID band includes the OneLife online ID profile web address that links to your online ID profile and stores extra information including documents and images.
View our Black Tag NATO Emergency ID wristbands and Stainless Steel ID Tag NATO Emergency ID wristbands