Add an ID to your Fitbit Activity tracker or GPS sports watch
Jul 12 2016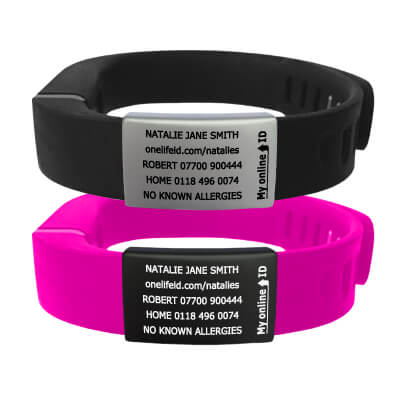 Soon after OneLife iD launched we conducted a survey to assess awareness of sports and medical ID products. The findings showed that whilst 95% recognised the importance of carrying an Emergency ID wristband or medical alert bracelet, over 60% admitted to not always using one. Since then we have made it OneLife iD's mission to "make carrying or wearing an ID more convenient".
With the current trend for sports tech wristwear many of us are wearing fitness tracker bands, GPS running watches or magnetic therapy bands 24/7. So we asked our customers whether we should design an ID tag that could be fitted onto a range of wearable technology. Your comments were all positive:
"I don't want to wear another band so if I could combine my fitness tracker with an ID that would be perfect."
"I always wear my Fitbit so adding an ID tag would mean I would carry my medical details all the time."
"An ID wristband is definitely the most convenient form of ID for me."
"Combine my sports watch with an ID tag? Perfect no double tan lines!"
The steel ID tags, available in 2 sizes and in stainless and matt black finish, fit a range of different wristwear products including; Fitbit Flex, Fitbit Charge, Garmin Forerunner, TOMTOM Runner 2 and even silicone magnetic therapy bands such as the Bioflow Sports.
So if you wear sports tech wristgear and want a convenient and discrete way of carrying emergency, medical or contact information then the new OneLife ID Tag for Activity Tracker bands could provide the solution.
Ideal for everyday use, in the gym, running, adventure holidays or walking the dog.
View our products range and transform your wristwear into an effective emergency ID or medical alert bracelet. View the OneLife iD tag range here.
The benefits of wearing a Sports ID wristband are widely recognised. An ID can provide peace of mind for others and can help paramedics access the emergency information they need to they deliver the care you deserve.