Range of Medical ID bracelets and products for senior citizens
Oct 11 2019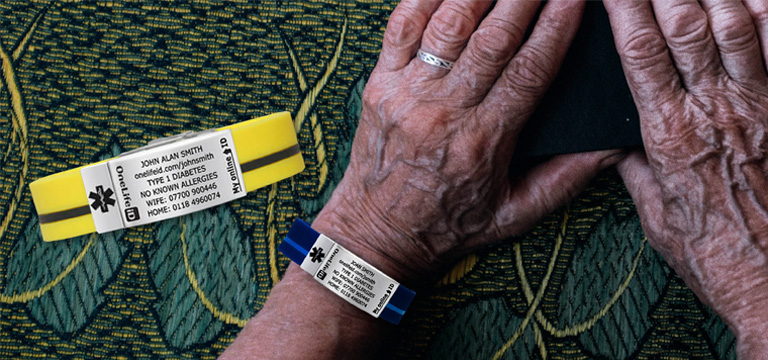 Our medical and emergency ID options for senior citizens with cognitive disorders such as dementia (including Alzheimers) and amnesia or hidden medical conditions provide peace of mind for friends and family.
Our emergency and medical IDs are widely used by those suffering from hidden medical conditions or cognitive disorders such as dementia which includes Alzheimers. Our products range from medical bracelets that can be securely fastened to a wrist, key ring tags in a range of emergency and medical designs and medical cards that can be tucked into purse or wallet or as our 'in-house' paramedic suggested stuck to the fridge door as that is often the place Paramedics go to in order to identify what medication an individual may be on.
A number of customers have contacted us to ask which products are most suitable for senior citizens so here are our recommended Medical IDs for senior citizens:
1 - Medical Alert and Emergency ID Card
For those that prefer a more traditional emergency ID the Medical ID card is also available. The ID Card can be kept in purse or wallet or stuck to the fridge door and has the benefit of being able to include up to 20 lines of detailed medical information and emergency contacts. OneLife iD Medical Alert and Emergency ID Card is a convenient way to carry emergency contacts and instructions for medical conditions, allergies or for everyday peace of mind. Fits into purse or wallet. Personalised with details of your allergy and instructions on what to do next.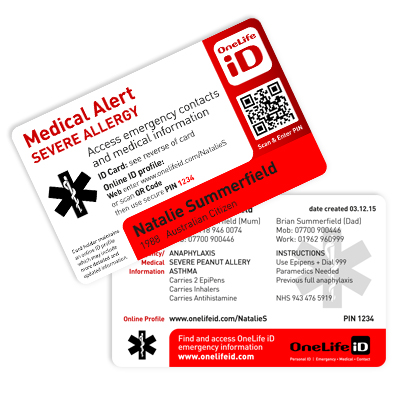 Features
Customisable main heading shows condition

Up to 20 lines of emergency & medical info

Durable print & 5 colours on tough PVC card

Online ID profile for extra info

Mobile ICE screen & alert sticker
Price: £5.49
2 – Medical ID Bracelet
Medical ID bracelet and Medical Alert wristband - Our medical ID bracelet can be personalised with a choice of information. Provides peace of mind for all as the ID can include emergency contacts, instructions, medical history, allergies and medication. Saves valuable time for responders or carers and can help ensure the right support is given.
Features & Engraving
Black engraved steel Medical Alert ID Tag

Adjustable silicon strap with watch clasp

Steel Paramedic 'Star of Life' badge

Add medical info & emergency contacts

Personalised with 5 lines of text engraving

ID links to free online & mobile ID profile

Online ID profile stores extra medical info

Medical Info mobile lock scre
Price: £5.49
3 - MiniTag iD Tags
Our Key ID Tag – at £7.49 for 3 tags these are a great way to conveniently carry medical info or emergency details. Just attach to key ring, bags and belongings or tuck into your phone case. These durable PVC tags are available in a wide range of emergency colours or designs and printed with personalised contact, emergency or contact information.
Product
3 PVC ID Tags printed with ID info

Each Tag one third size of credit card

Durable, lightweight tag with split ring
Printing
Personalise with 4 lines of emergency, medical or contact details

Printed in range of colours and designs
Features
Online profile stores additional ID info

ID link to current new online profile

ID alert sticker & mobile ICE screen
Price: £6.99
4 – Slimline ID wristband with woven strap and steel ID tag
Our slimline Emergency ID with slimline 12mm wide woven nylon wristband and stainless steel ID tag is suitable for those with slimmer wrists and the woven nylon strap is available in a choice of colours and styles.
Product & Engraving
Adjustable slimline woven nylon watch strap

Personalised stainless steel12 mm ID Tag

4 lines of emergency text engraving

Online profile for extra emergency ID info

Peace of mind - medical, allergies or emergencies
Price: £15.99
5 - Emergency ID wrist strap with woven nylon strap and black steel ID tag
An alternative is our woven, nylon strap ID bracelet with watch style clasp. The Emergency ID wrist strap with NATO nylon strap and black steel ID tag is available in a range of colours and patterns. All our ID bracelets are personalised with your choice of emergency information engraving.
Product & Engraving
Personalised black steel ID Tag

Adjustable NATO nylon watch strap

5 lines of text engraving or QR code option
Features
Online profile stores extra emergency ID info

Mobile ICE screen & alert sticker
Price: £20.99
Benefits
Here are some of the benefits of senior friends or relatives carrying medical identification:
ID themselves - our medical ID bracelets and tags make it easy to carry emergency contacts or medical information. Our handy MiniTag key ID is also a great way of carrying contact information or medical details whenever you are out.

Ensure important medical information, medication or instructions are visible and available to emergency responders or carers

Deliver 'Peace of Mind' for all the family and friends
Securely store medical documents and information - every OneLife iD includes a personal online ID profile. The online profile can store extra information including emergency contacts or additional details including medical conditions, treatment plans and much more.
We have developed an A5 leaflet to provide all the information required to guide senior citizens or their carers through the process of selecting and ordering a medical ID bracelet or medic alert card. If you would like to request a leaflet to help you through the ordering process or would like to display the leaflets at your local clinic, day centre or hub then click to view or download the A5 leaflet or for multiple copies contact info@onelifeid.com
If you need more details on what information to put on your ID then read our quick guide (Click to find out more).