Review of OneLife iD NATO emergency ID band by Cycling Weekly
Jan 16 2018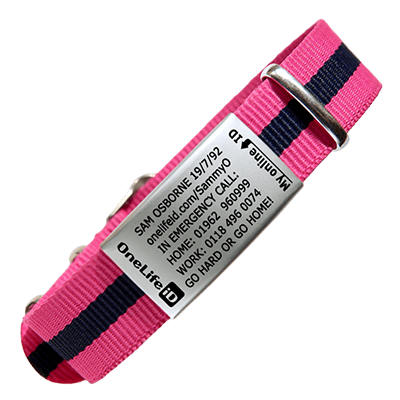 Read the latest review of OneLife iD's NATO emergency ID band by Cycling Weekly. Our Tour de France finishing emergency ID scored 10/10. Here's what they had to say:
OneLife iD has been producing personal identification for several years now – we test ride its latest military-style watch strap.
When heading out on the bike there are several must-have pieces of kit we all remember to carry, from tubes to nutrition, but it's surprising how many of us leave home without emergency identification and contact details for next of kin should the unthinkable happen.
Personal identification comes in all shapes and sizes, but the OneLife iD NATO personal identification, as worn by Luke Rowe at this years Tour de France (Click here to read more), offers not only the standard ability to amend and include more personal information via the innovative online profile that comes with all products, but the OneLife iD NATO personal identification band also comes with a unique fabric wrist strap.
Buy the OneLife iD NATO 10 personal identification now from £21.99 - Click here to view
There are several options in the OneLife iD personal identification range for how best to carry your ICE (In Case of Emergency) information with its newest product the OneLife iD NATO emergency ID band. OneLife iD says it was born after requests for more choice over the standard silicone wrist strap options.
Construction.
Made from nylon, known for its strong and durable properties, OneLife iD says that the new strap is based on a military watch-strap design and includes a simple silver closure buckle.
The ID tag element of the OneLife iD NATO personal identification band is available in black or stainless, with a choice of up to five lines of emergency information or limited text and inclusion of a QR code. The clever thing about OneLife iD is the ability to add additional information via your online profile, with a link to your profile included on the tag - Click here to find out more.
A nice touch by the OneLife iD team is the personal ICE mobile phone wallpaper, allowing you to turn your phone into identification. Click here to find out more. The packaging that the OneLife iD emergency ID comes in turns into a helpful waterproof phone case, as well as providing a couple of ICE information carrier stickers to alert responders to look for personal identification.
There are 12 colour options in total, including Luke Rowe's Team Sky colours, discreet black or even high-vis orange.
Ride
On arrival of the OneLife iD ICE band, I needed to register with the online eportal as well as updating my personal profile with things like my home address, allergies etc. One thing I found really helpful was the space to include additional information, which I think would be perfect for including a temporary address such as a hotel etc. Before any 'personal data sharing' klaxon sounds, you'll be pleased to know that all this information is held very securely and before anyone can look up your personal profile online they also need a PIN number (which is found on the underside of your wrist band).
By selecting minimal information to be displayed on the tag of the OneLife iD NATO ICE band, the whole thing weighs in at a flyweight 18g. Opting for the bigger QR code or more text, the weight goes up by 4g. This means that once on it's barely noticeable, much less than a watch would be.
As someone whose wrists are often swamped by watches due to their incredibly skinniness – they measure 15cm in circumference – I was impressed that the watch-style strap of the OneLife iD NATO 10 fitted without reams of strap left hanging out, although reassuringly for those with more sensible wrist measurements it can fit up to 22cm.
When out on a wetter ride, the strap did soak up the rain, but didn't become noticeably uncomfortable and was swift to dry.
Value
With prices starting from £20.99, the OneLife iD NATO emergency ID is at the upper end of the ICE options, although many of the alternatives are just stickers and as far as I'm aware don't have a supporting online portal, making this a really innovative product.
With the unique ability to add additional information, it's really appealing for riders who travel a lot and need to amend address information, or even just for the annual training camp.
Coming with a comfortable non-silicone, robust strap is just the icing on the cake, and with 12 coloured straps to choose from and you can even buy additional straps for just £9.99, allowing you to truly colour coordinate with your kit. Click here to view our range of spare straps.
Verdict
The military watch-style OneLife iD NATO personal identification band combines wristband ICE information with an online personal profile, enabling you to back up your next-of-kin contact details with more in-depth information such as your address and additional allergies. An excellent piece of kit that no rider should leave home without.
Read more at http://www.cyclingweekly.com/reviews/first-aid-creams-lotions/onelife-id-nato-10-personal-identification