Our online emergency ID profile and medical record
Aug 30 2017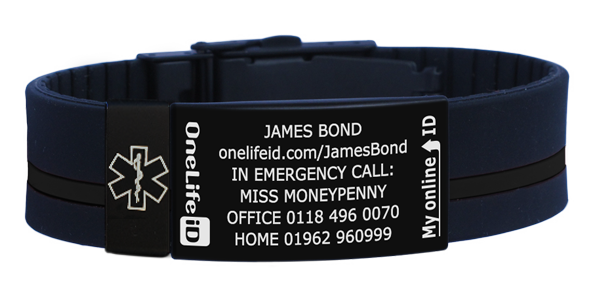 The ID you carry or wear provides vital medical information or emergency contact information to first responders and saves them valuable time so they can provide you with the treatment you require or contact those at home. However, there is a limit to how much information can fit on an ID so we designed our IDs to include a link to your personal online ID profile.
With your online profile you can add as much, or as little, information as you feel is necessary. Users can view and update their secure record by signing in with their user name and password. Emergency responders can access your emergency ID profile with the web address link and the secure PIN found on your ID.
The featured James Bond profile is a bit of fun but www.onelifeid.com/JamesBond demonstrates the type of information, documents and images you can store. Click to find out more then select Emergency Details and enter PIN 007.
Here's how some of our customers use their online ID profile:
Vital Medical Information – Helen has a serious and rare medical condition. Her condition can affect her at anytime and with prompt and correct treatment she recovers fully and quickly. Helen has an Emergency Instructions sheet from her Specialist Consultant with detailed information on her condition and what treatment she needs. Whenever her condition, medication or treatment changes she can easily update her information and upload new documents and images from her Consultant. Her OneLife iD has saved her life.
Travel and Insurance Documents – John is a keen cyclist and frequently travels abroad for cycling holidays and breaks. Before each trip John ensures he has uploaded to his online ID profile images of travel and accident insurance documents, EHIC card and passport so that should things not go to plan and he loses his documentation or has an accident he can access all his important travel and insurance documentation online.
Emergency Contacts and Instructions – Sports Mum Penny often enjoys a run or gym session before picking the kids up from the school. The extra info on Penny's online ID profile provides her with reassurance that should she have an accident then emergency responders have detailed information on who to contact so that the children are not left at school.
For more information on the OneLife iD emergency profile see our instructional videos or view our demo profile. (Click to find out more).