Luke Rowe ID band & Team Sky Jersey Tour de France competition
Jun 30 2016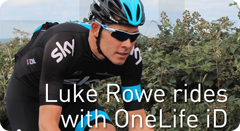 Luke Rowe of Team Sky, Britain's top professional cycling team, is riding his second Tour de France in support of Chris Froome's quest for the yellow jersey. Luke is OneLife iD's Sports Ambassador and promotes the benefit of wearing or carrying an ID whilst cycling or indeed all outdoor sports or activities.
At this year's Tour, both he and Columbian team mate Sergio Henao, will be wearing OneLife iD cycling ID bands. The range of sports ID wristbands and medical ID bracelets includes the slimline, and lightweight (for those weight weenies) Freestyle ID with its 12mm silicon band and black tag, the Adventure ID wristband with its 20mm silicon band through to the Stealth Squadra ID wristband with its distinctive coloured thin line and watch style clasp. We have lots of fun spotting which one they are wearing each day!
For your chance to win a Team Sky jersey signed by all the team or a OneLife iD wristband check out Luke's Facebook page https://www.facebook.com/LukeRoweFans
Every OneLife iD Sports ID wristband, Medical ID bracelet or ID Tag includes an innovative online and mobile ID profile. The ID profile includes a feature to create a mobile phone sized image with all your emergency information on that you can save as the lock screen for your mobile phone. Click the image below to visit Luke's Facebook page ...