Luke Rowe Sky Procycling wears OneLife iD sports & emergency ID
Sep 15 2013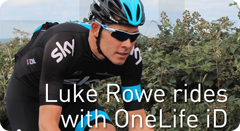 OneLife iD, the sports and emergency personal ID product, has a new cycling ambassador, Luke Rowe. A professional with Team Sky Procycling, Luke was included in the team's roster for the Tour of Spain (La Vuelta) which started on 24th August. This is Luke's debut Grand Tour appearance in only his second season as a professional.
As a rider in one of the world's top teams, Luke travels the world cycling over 20,000 kms each year and competing in some of the world's most arduous events which in 2013 have included Paris – Roubaix (Hell of the North), the Tour of Flanders and the 21 stage, 3,000km Vuelta. Luke said, "I often train alone and wearing an ID just makes sense".
In the event of an accident the benefits of wearing a sports ID include quick and effective treatment, prompt contact with family and peace of mind.
Colin Addison at OneLife iD explained, "With Luke wearing a sports ID band it sets a good example to the rest of us regarding carrying a form of ID when out enjoying our favourite outdoor activities. We also like the fact that Luke uses our complete range of iD products when travelling, training and competing. With Luke's racing and travel commitments we'll get great feedback and ideas which will help us to improve and develop our products further.
See the iD wristband in action as Luke describes the contents of his wet bag for GCN - Global Cycling Network - Watch the video