Luke Rowe wears OneLife iD Sports ID bands at TdF and worlds
Sep 21 2015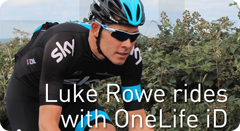 With Luke set to compete for Great Britain at the UCI World Road Race Championships in Richmond, USA on 27th September it has been an impressive year. As a domestique for Team Sky he is one of the un-sung hero's of one of the world's top cycling teams. A breakthrough eighth place in the world's toughest one day classic Paris-Roubaix saw him gain a debut ride in Team Sky's 9 man squad for this year's Tour de France. Luke completed the Tour and helped Chris Froome win the Yellow Jersey for the second time in three years.

OneLife iD's co-founder Craig Wilson explained the thinking behind their partnership, "With Luke's racing and travel commitments we get great feedback and input which has helped us improve and develop our sports ID bands".
During his endless kilometers of racing, training and travel, Luke has used the full range of OneLife iD's Sports ID bands. Craig Wilson explained, 'When it comes to testing, Luke really puts our IDs through the mill! This year it has ranged from the heat of Australia in January to the cold and wet conditions of the punishing cobbled classics. More recently OneLife iD's new lightweight ID band, the Freestyle ID, got the ultimate in stress testing as Luke completed the 3,000km, 21 stage Tour de France".
OneLife iD also believe that Luke sets a great example to other cyclists, runners and those who love the outdoors by wearing his ID and on-board emergency contact information. Luke said, "When out on the bike training I cover thousands of kilometers a year, often alone, so wearing a Sports ID band with my emergency contacts on just makes sense".
Here's a brief clip of Team Sky in action preparing for a team time trial with Luke sporting the Lumo ID wristband https://www.youtube.com/watch?v=GQPrB1ZnZTc