Medical ID and Medical Alert Bands added to OneLife iD range
Nov 13 2014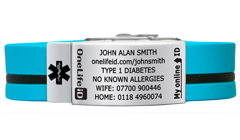 OneLife iD has launched a new Medical Alert ID wristband - Medi ID. The Medical ID can help alert emergency responders to users medical or contact information. In an emergency, access to up-to-date medical information can assist prompt and accurate diagnosis and saves lives. Our Medical ID includes the internationally recognised Paramedic 'Star of Life' which will help alert emergency responders to your In Case of Emergency ICE ID information.
The new ID bands come with a range of engraving options and can include up to 5 lines of engraving with 20 characters per line. OneLife iD also offer a flexible range of Medical ID products to suit everyone. In addition to the Medical ID bracelet or wristband, OneLife iD also offer ICE ID Cards, military style ID Dog Tags or our convenient MiniTag Key Ring ID which is perfect for everyday life. All IDs are personalised with your choice of medical details, emergency information plus next of kin contacts.
Plus where OneLife iD comes into its own is that each ID product also links to your single updateable online profile, where even more of your important information can be recorded. Your online profile can also store multi page documents such as medical notes, crisis plans, mediication, prescriptions and insurance policies.
So whether it is for some added protection when out or during travel or holidays, or to provide peace of mind for those at home, carrying or wearing a Medical Alert or Medical ID helps inform responders of hidden medical conditions, allergies or essential medications. OneLife iD's modern approach combines IDs with printed or engraved details together with an online 24/7 service that means supplementary and more detailed medical information can be added to the secure online profile and updated whenever details change.
Our range of ID formats provides a style to suit everyone, from child to adults and seniors; whether you have a simple allergy or more complex medical conditions.

Click to find out more about our Medical ID range.