New Medical Alert Card and Emergency ID Card
Jan 18 2017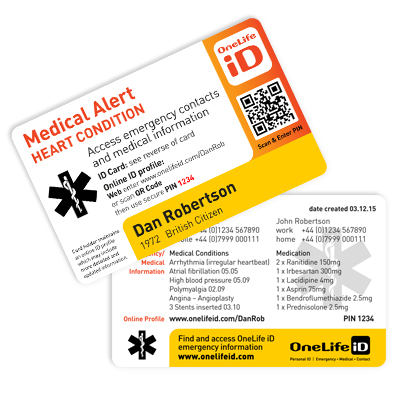 OneLife iD's New Medical Alert Card and Emergency ID ( Click to view the Medical Alert ID ) comes in a range of 5 colours and includes a choice of emergency headline titles allowing users to clearly display their medical condition. We have also added an Allergy Alert ID card that includes a range of common allergies which can be selected for printing from a pull down list or customised to meet your needs ( Click to view the Allergy Alert ID ).
We have re-designed OneLife iD's popular Medical Alert and Emergency ID Card. The Cards are often used in conjunction with OneLife's Medical Alert Bands and Medical ID bracelets to provide additional emergency, medical or contact details. New features on the Card include:
New layout for the card front providing space for a range headline titles to clearly display any medical conditions or instructions. The 2 line headline title includes a range of medical condition choices including Alzheimer's, Dementia, Type 1 Diabetes, Type 2 Diabetes, Heart Condition and more. There is now an extra option on the second line to add specific medical conditions.
Choice of 5 colours – red, blue, green, orange and grey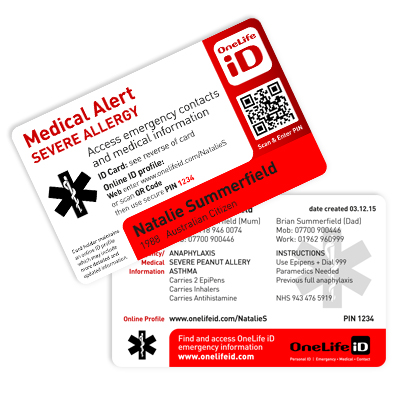 OneLife iD's Craig Wilson said, "Our original Medical Alert ID Card was very popular with people who wanted a durable and convenient ID card for their wallet or purse which had space for additional printed details. With the new card design we have kept the back of the card unchanged as it works well with room to record up to 20 lines of information on emergency contacts, medical conditions, medication and instructions". The information on the back of the Card can include important 'What's up' and 'What now' information which can save time by quickly alerting emergency responders to any hidden medical condition and helping paramedics understand what treatment to provide."
Want to know what details to put on your ID tag or ID wristband? - then Click to find out more.
The new front provides responders with a very clear and immediate understanding of the user's Medical Condition and the customisable second line can be used to record the user's particular condition or treatment instruction.
Interested in the range of Medical ID bracelets, Cards and Tags? Click to view the range.