Mothers Day Gift IDs - Emergency or Medical ID for Mum
Mar 19 2017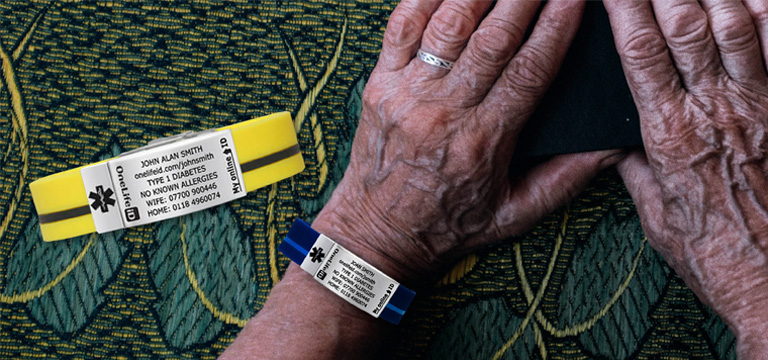 OneLife iD sports, emergency and medical bracelets make a great Mothers Day Gift. They provide Peace of Mind for family and friends with the reassurance they are carrying an ID with useful emergency contact information or details of allergies or medical conditions.
For the week before Mothers Day on Sunday 26th March 2017 use discount code MOTHERS10 to receive 10% any OneLife iD products.
Whether Mum is a keep fit fanatic, a lover of the outdoors, dog walker or happy at home, OneLife's range of personal ID products can provide Peace of Mind for friends and family and critical information for first responders in the event of an emergency. The OneLife range includes ID bracelets, key tags and medical ID cards.
With OneLife iD emergency and medical ID wristbands and key ID MiniTags Mothers can benefit from:
ID themselves - our emergency ID bracelets make it easy to carry emergency contacts or medical information. Our handy MiniTag key ID is also a great way of carrying contact information or medical details whenever you are out.
Ensure medical details, medication or instructions are visible and available to emergency services or carers
Deliver 'Peace of Mind' for family and friends
Securely store medical documents and information - every OneLife iD includes a personal online ID profile. The online profile can store extra information including emergency contacts or additional details including medical conditions, treatment plans and much more.
So which products would we recommend for a Mothers Day Gift?
For Active Mums OneLife iD offer a range of sports emergency ID bands. Waterproof and durable they are ideal for sports and activities both outdoors or in the gym. We offer the lightweight Freestyle ID band which is available in 3 sizes and has a choice of

Black

or

Stainless Steel

ID tag. An alternative is our Squadra ID bracelet with watch style clasp.

Click to view the Stealth Squadra

.

All our ID bracelets are personalised with your choice of emergency information engraving.
For Busy Mums we have our

Key ID Tag

– at £7.49 for 3 tags these are a great way to conveniently carry emergency contact information or medical details. Just attach to key ring, bags and belongings or tuck into your phone case. These durable PVC tags are available in a wide range of colours and printed with personalised contact, emergency or contact information.

Click to purchase a Key ID Tag.

A more traditional Medical ID card is also available. The ID Card can be kept in purse or wallet and has the benefit of being able to include up to 20 lines of detailed medical information and emergency contacts.

Click here to view our medical ID card

.
If you want to know what to put on your ID tag or ID wristband then click here to find out more.
All OneLife iD products include the online ID profile. Read more about the innovative emergency lock screen for your mobile phone by clicking here.