New style strap for your Medical ID bracelet
Jun 24 2017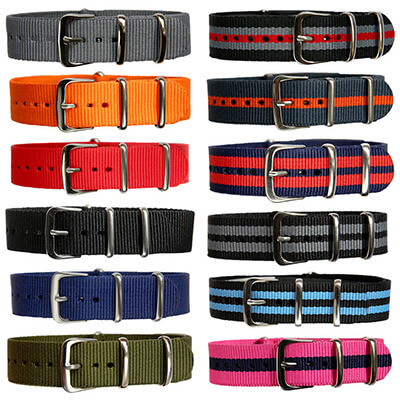 The latest nylon NATO strap from OneLife iD is now available as a spare strap so you can change the colour and style your Medical ID bracelet. The 18mm wide strap accepts our standard 20mm medical ID tags used on most OneLife iD products including Medi medical ID bracelet, Squadra, Active, Adventure, Stealth Squadra, Lumo, and Black Ops Emergency ID bands.
Based on the military NATO G10 watchstrap, the tough, nylon strap can withstand water and sweat, making it an ideal medical ID bracelet for those with an active lifestyle. The durable one-piece, military-designed strap securely holds the steel 20mm medical ID tag in place on your wrist. The band is finished with a silver-tone buckle and two rings to secure the strap end.
Choose from over 10 colour options – plain or striped strap including black, navy, grey, orange, olive, red, grey with central orange stripe, pink with central navy blue, black and grey with central red stripe, navy blue with 2 red stripes, red and black with 2 grey stripes, navy blue with 2 light blue stripes.
The 18mm wide nylon, NATO G10 strap features a buckle so the strap length can be adjusted to fit most wrist sizes. View our Range of spare NATO Bands.
View our Black Tag NATO Emergency ID wristbands and Stainless Steel ID Tag NATO Emergency ID wristbands