Spring Newsletter announces latest Sports ID wristband colours
May 10 2016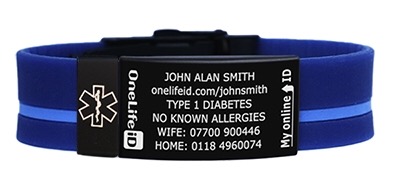 Our Spring 2016 newsletter announced the latest colour additions to our range of straps for the Stealth Squadra and Squadra ID wristbands and Medical ID bracelets.
All our ID wristbands, both sports and medical, are now available in 23 colours, many with the distinctive thin squadra stripe.
Our Medi iD wristband includes the paramedic 'Start of Life" logo which ensures first respionders can identify the wristband as a Medical ID band. Following the success of the black tag and clasp range we have now made the Medi ID available with black clasp and paramedic badge - View the full range here.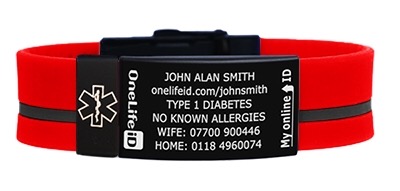 The Medi iD black looks striking and provides the perfect Medical ID for those looking for something more stylish. It got the thumbs-up from one of our teen users who told his Mum how cool it looked when he stated "it glows in the dark at gigs".
The newsletter also announced our recent instructional video showing the latest features of the upgraded online and mobile ID profile. These included the improved mobile ICE screen that turns your mobile lock screen into an ID, a store for important documents, additional storage for more emergency contacts and medical information and responsive design that aids navigation across all devices including mobile and tablet.
Click here to find out more by watching our video.
Click here to read our latest newsletter.