New MiniTag ID Tags – a convenient ID Tag for all the family
Jan 31 2016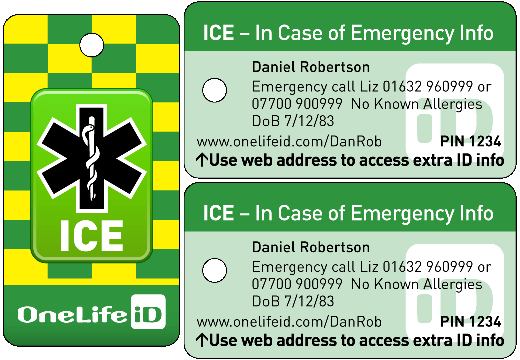 Our MiniTag ID tags have been extremely popular with many of you attaching them to keys, luggage, clothing, sports equipment and even adventurous toddlers and pets!
So we have introduced a new range of designs that should appeal to all the family no matter what they are doing. The handy PVC tags come in a set of 3 and cost just £7.49 including postage and are a great way of carrying key emergency, medical or contact information.
Our new range includes some bright new designs for:
· Sports or Emergency ID: Triathlete ID, Runner ID, Cyclist ID, Equestrian ID, Motorcyclist ID
· Medical ID and Medical Alert: our Emergency Responder Tags
· Contact Information: Travel ID, School Bag ID
Check out the new range of designs and remember we are adding to the designs all the time. Click to view the new OneLife ID MiniTags.
If you have an idea for a Tag then we would love to hear from you. Just email info@onelifeid.com and we will see what we can do.
Every ID includes an Online Profile Page
Remember all our IDs include the OneLife online ID profile where you can supplement the information on your ID band and tag, update when your details change and create the innovative Emergency Lock Screen for your mobile phone.
Watch our short videos to find out more about the OneLife ID online ID profile (click to view)
and In case of Emergency (ICE) screen (Click to View)