Improved online personal profile and ID web pages coming soon
Oct 07 2015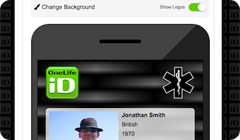 Since its launch in 2012 OneLife iD has always been more than a personalised ID wristband or ID tag. As Cycling Active Magazine said in its review of our Sports ID bands, "Where OneLife iD comes into its own is that with every OneLife iD product users have the option to link their ID band to their online personal ID profile".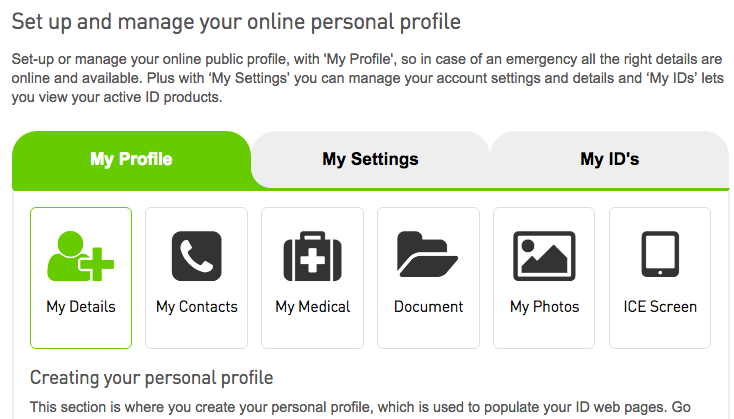 The online ID profile can be set-up to include your choice of personal details, in case of emergency (ICE) contacts and medical information. Additionally, with the medical section there is the option to add more detailed documents and images. The online personal profile is then managed by the user to provide a series of personalised ID web pages that supplement the information on your Sports or Medical ID. The information is stored securely and in the event of an emergency the information can be accessed using the PIN on each ID product.
Over the last few months we have been improving the online ID profile. We've taken on board your suggestions and ideas and next month we will be launching an updated online personal ID profile that includes:
Mobile access - manage, update and add photos from your mobile
Online document store - add important travel and personal documents to the new My document store. A great way to back-up key documents and acess them wherever you are
Multiple emergency and medical details - add as many emergency contacts and medical conditions as you wish
Improved usability and navigation – easier to access and manage your account plus a simpler way to set up the ICE screensaver for your mobile phone
Print function – print a paper version of your online emergency and medical information
More features - additional space for details of those you care for (eg details of children and school pick ups, others you look after or the pets) and much more…
We have always been convinced about the benefits of combining the Medical or Sports ID you wear or carry with an online profile because it brings so many benefits:
ability to add to and enrich the information on the ID tag with additional deatils and multi-page documents and images
update the online information whenever the users details or emergency contact numbers change - no need to re-new the tag
use the profile information to create an in case of emergency (ICE) screen for your mobile phone
Look out for our announcements on Twitter, Facebook, Google + or our regular e-mail newsletter.