New online ID profile and 'App Style' Mobile ICE Screen
Dec 08 2015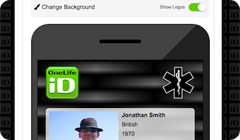 OneLife ID has always taken an innovative approach to the ICE (In Case of Emergency) ID. The OneLife ID wristbands, Dog Tags, ID Cards and Key ID Tags can all be linked to the OneLife ID online personal ID profile giving users the ability to supplement the information on the ID with additional details, documents and images and ensuring updates to emergency ID information can be made whenever details change. To try it out just sign in to your user account and navigate through the My Profile section that includes My Details, My Contacts, My Medical, My Documents, My Photos and My ICE Screen.Watch our short video on setting up your Emergency ICE Screen (Click to View)
https://www.onelifeid.com/page/Emergency-ID-lockscreen-video
Our Winter 2015/2016 upgrade incorporates a range of improvements and includes many of the functions and features you have been asking for. It's now very easy to update personal ID profiles from a mobile, add the improved ICE Screen to your smartphone lock screen, add lots more detail and use the print feature on the emergency and medical datasheet.
Over the coming months we will be providing more detail but here are some of the highlights:
Improved functionality - includes Addresses, new Emergency Instructions to cover anything from child and pet care through to medical details.
'App style' Emergency ID ICE screen web page to create a lock screen for your smartphone or even tech wristwear.
Increased capacity - up to 10 emergency contacts, up to 5 numbers per contact and unlimited medical information,
Enhance Usability and Navigation - intuitive user interface on desktop, tablet and mobile devices. Update whenever you need.
Online My Document Store for important personal and travel documents. A great store and back-up for travel, adventures and life.
Print feature for your Emergency and Medical Details. Create a printed copy of your profile whenever travelling.
Improved profile management making it easy to update your User Account settings.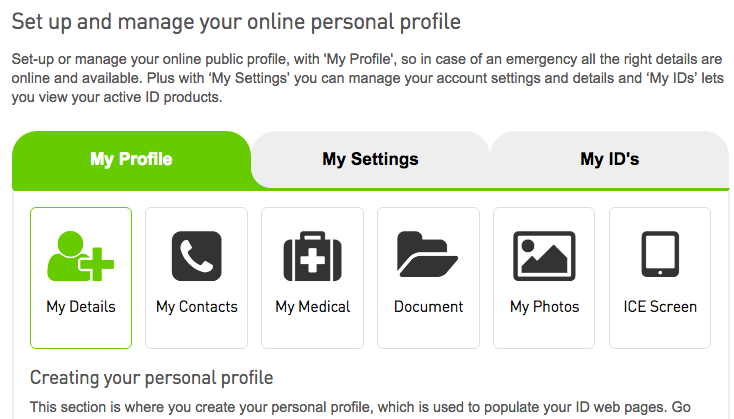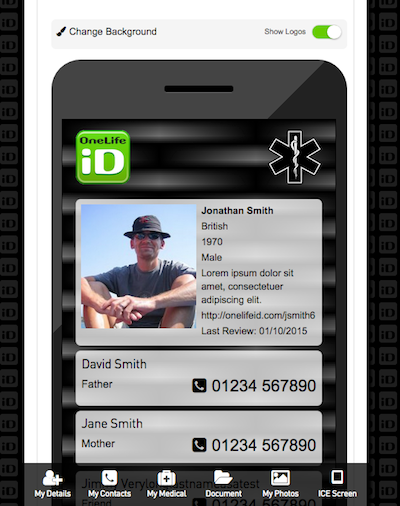 Look out for forthcoming videos explaining how to get the most out of OneLife iD.
With OneLife ID there are now a range of products (ID bands, Dog Tags, ID Cards, Key ID Tags) for all the family and the new online ID profile provides a complete ID solution all included in the price of your ID product.
Watch our videos explaining how to get the most out of OneLife iD. Click to View