Sports Tours team with OneLife iD to offer Sports ID wristbands
Jun 03 2015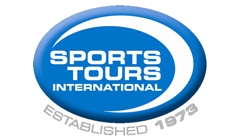 The growing popularity of adventure and sports holidays has seen a marked increase in people travelling the globe in search of new challenges and experiences.
OneLife iD, the personal ID company, have teamed up with Sports Tours International, the UK's largest independent sports tour operator to provide its customers with Sports ID bands and luggage tags personalised with an individual's emergency, medical or contact information. Established in 1973, Sports Tours International takes thousands of active sportsmen and women to participate in cycling, running and triathlon events across the world.

Kevin Harmer, Marketing Executive at Sports Tours International commented on the partnership with OneLife iD, "Sports Tours wanted to provide its customers with additional peace of mind. The combination of travel and participation in sports events meant that customers wanted the re-assurance of using a 'one-stop personal ID and luggage label' that was suitable for both worldwide travel and sports".
OneLife iD personal identification products are specifically designed to provide a complete solution for a sporting or activity holiday. Used and tested by Tour de France cyclists and top athletes, the OneLife iD wristbands, tags and cards offer walkers, cyclist, triathletes and runners with:
Choice - a range of products suitable for all the family or activities

Durability - IDs designed to withstand the rigors of sports, adventure and travel

Innovative features – comprehensive online ID profile that provides:

capability to add travel documents, itineraries, insurance and passport information

flexibility to update personal details for the next event or adventure
Colin Addison, Co-Founder at OneLife iD said "Sports Tours' customers take part in prestigious events such as the TCS New York City Marathon, the L'Etape du Tour and Ironman Lanzarote. With the OneLife iD and Sports Tours partnership customers can focus on competing in and enjoying their adventure safe in the knowledge that they have taken steps to protect both themselves and their kit."
For more details go to www.onelifeid.com/page/sportstoursint