Upgrade to Leather today - New Emergency ID band
Sep 22 2017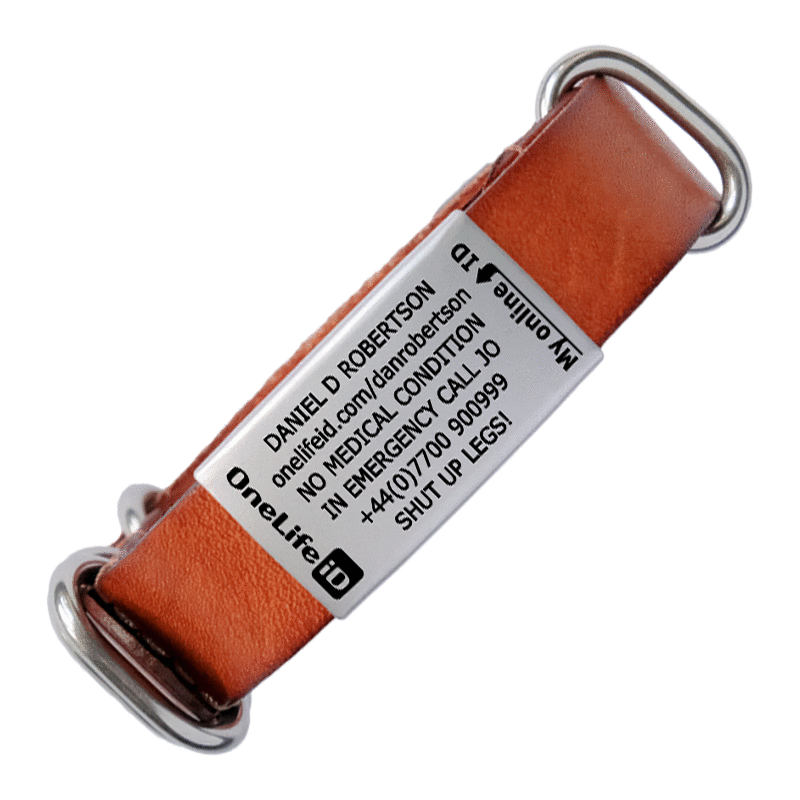 OneLife iD think the new leather strap offers Emergency ID options for those who want to wear something discrete or smart. Our leather ID wristbands with black anodised tag (Click to view) have proved so popular that we have now made them available with a smart stainless steel ID tag.(Click to view). For the weekend of 23/24 September we are offering 10% off our leather IDs with code GOLEATHER. Just enter the code at checkout*.
The stainless steel tag is engraved with your choice of emergency contacts and instructions. You can also select a web address for your OneLife iD online ID record so you can supplement the details on your emergency ID with extra online info, contacts and even multi-page documents.
The online profile is what makes OneLife iD products stand out from the crowd. The online record can hold so much information and can be updated whenever details change. If you want more information on how the online ID record works then read our quick guide (Click to find out more).
The leather strap option is new for 2017 and is available in brown or black and is based on the military NATO G10 watch strap. The smart one-piece military designed holds the stainless steel ID tag on your wrist. The fit can be adjusted for most wrist sizes with the silver-tone buckle and two rings to secure the strap end.
The emergency ID is engraved with up to 5 lines or emergency or medical ID info and is ideal for everyday life, the commute to work and is tough enough for outdoor work or smart enough for the office or evenings out.
*Offer ends midnight Sunday 24th September.