New full range of Child ID products from OneLife iD
Nov 07 2017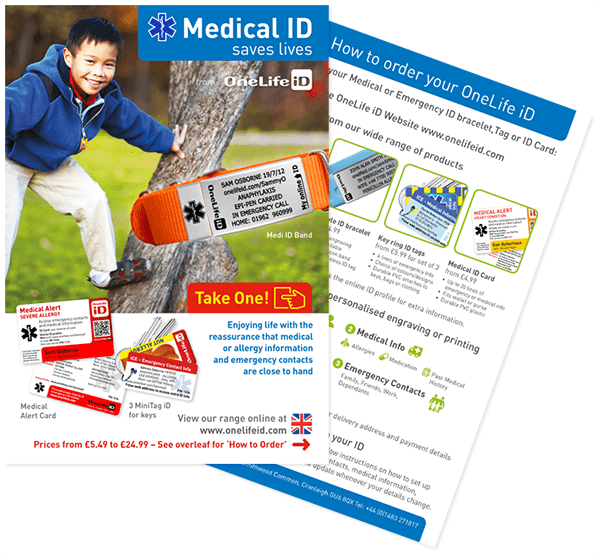 Our latest A5 leaflet describes the range of child emergency ID options. Our child IDs are ideal for carrying contact or medical information when at school, days out or holidays #peaceofmind
OneLife iD medical and emergency IDs are very popular with parents looking for an ID band or tag that their child can wear, carry or attach to belongings. Ideal for holidays and days out the ID products carry contact information and, where the child has a medical condition or allergy, the ID can include information on any immediate treatment and medication required.
A number of allergy, immunology and rare disease clinics and centres that treat children and teenagers had requested leaflets that they could include in their appointment packs or could display on counters so we developed a handy guide which:
displayed the range of child IDs including:
provide a simple guide to ordering a child ID
highlight the benefits of a child ID which include prompt identification and contact with family, immediate and effective treatment and peace of mind for family and friends.
The A5 flyer provides all the information required to guide parents or guardians through buying a child ID wristband or medic alert card.
You can print out the leaflet here (Click here) or if you would like to display the OneLife iD products at your clinic, day centre or hub then contact info@onelifeid.com
If you need more details on what information to put on your ID then read our quick guide (Click to find out more).