New Child ID wristband extends our range of children's IDs
Oct 27 2017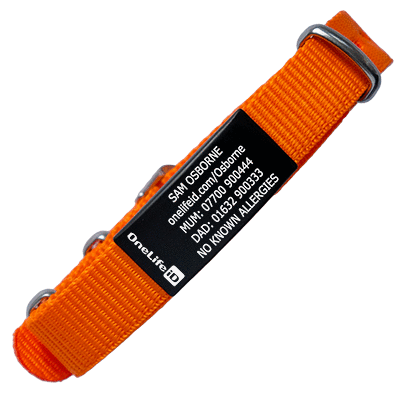 Many of you have been asking for a medical or emergency ID band that is suitable for children or those with smaller wrists.
The new Child ID is based on our popular woven nylon watchstrap style ID band. The material is available in a wide range of colours and the slimline 12mm strap and black tag fits onto smaller wrists and is suitable for young children.
This week we have launched a limited number of colours but more will be available in the coming weeks and the black tag version can be engraved with up to 4 lines of personal information, medical details or emergency contacts.
The new ID bands are ideal for children with allergies, medical conditions or providing peace of mind for parents when their offspring are on school trips, holidays or just enjoying the outdoors. OneLife co-founder Craig Wilson said "We are recognise that many children don't want to wear an ID because it makes them different or stand out from their friends. So we have been looking for an ID band that children wanted to wear and the woven nylon strap enabled us to offer a product that was available in a wide range of colours and looked like a 'festival band'. We have had great feedback so far." Click here to view the Child ID
In addition to the woven nylon ID wristband, Onelife iD offer a range of medical or emergency ID products suitable for children. These include:
Our Child ID

MiniTag ID

, can be attached to school bags, lunch bags, kit, zips or on clothing. Available in a range of child friendly designs. The MiniTag ID is a set of 3 durable PVC key fob sized tags costing £5.99 and are a convenient way to carry emergency and medical ID information and provide peace of mind for parents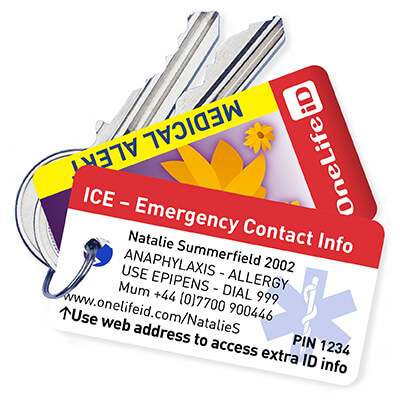 (Click the image above to see details of the Freestyle iD)
OneLife iD's New Medical Alert Card (

Click to view the Medical Alert ID

)

comes in a range of 5 colours and includes a choice of emergency headline titles allowing users to clearly display their medical condition. We have also added an Allergy Alert ID card that includes a range of common allergies (

Click to view the Allergy Alert ID

).
Each ID product is personalised by the purchaser when they order and can include important emergency, medical or contact information. Key medical information can include details of any medical conditions, allergies or medication and can include:
Who you are – name, date of birth or NHS number
What's up – details of medical conditions, allergies or medication
What next – any immediate treatment, medication or instructions.
Want to know what details to put on your ID tag or ID wristband? - then Click to find out more.