Dec 02 2019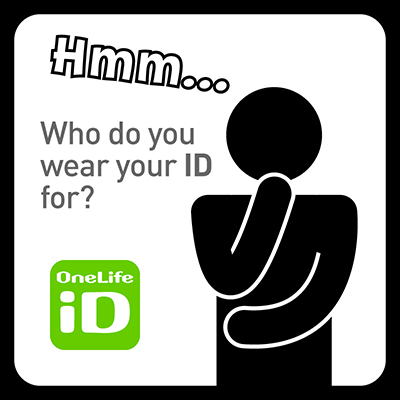 Many of the OneLife iD team are keen cyclists and we know that wearing a Cycling ID is great way to carry useful emergency contacts or medical information should the unexpected happen when out on your cycle.
Why wear a Cycling ID
We all know that the main benefit of wearing a sports or cycling ID is that the emergency information on it can save your life but what is less recognised are the other benefits. So watch our short video to find out more Click Here.
Benefits of wearing a Cycling ID
Wear a Cycling ID for the other cyclists in your group - we often cycle regularly with a group of cyclists and whilst we recognise and know the members of the group they probably do not have your emergency contacts or know if you have a hidden medical condition. So help them by carrying a form of identification with your emergency contacts and any allergies or hidden medical conditions. From experience we can tell you it really helps if those with you are able to contact home, let them know what has happened and to provide that re-assurance to you. Don't know what information to put on your Cycling ID? Then read our Top Tips on the information to include on your emergency ID Click Here.
Wear a Cycling ID for the paramedics or emergency services assisting you - with an emergency ID Paramedics are far more able to provide you with prompt and correct medical information. AMP stands for Allergies, Medication and Past Medical History. These are things that Paramedics need to know before treating you and to ensure any support they provide will make you better and not cause an adverse allergic or medical reaction. If this information is readily at hand on your Cycling ID then paramedics can provide you with the correct care. Additionally, most medical conditions are not immediately obvious so a personal identification bracelet, card or ID tag can provide the right information for the paramedics so they can better understand: Who you are, What's up and What next......
Wear a Cycling ID to reassure friends and family at home - if you are a few minutes late getting home due to a puncture, headwind or a wrong turn do your friends and family worry? If they know that you're wearing a form of emergency identification or Cycling ID this will help reassure your friends and family at home and should an accident happen they will be contacted quickly and know what they can do to support you.
Cycling ID Range
OneLife iD offer a range of cycling ID products- ideal for leisure, racing, training or leisure and any discipline including road, off-road or commuting.
These IDs include:
Our new Sports ID band, is made of silicon with a black metal ID tag. The apple watch style adjustable silicon strap can be fitted close around your wrist or over the top of cycling clothing to improve visibility. It is a great new addition to our range and its comfort, durability and adjustable strap have made it popluar with runners and cyclists alike. Our full range of ID wristbands are all suitable for cycling and many of them have been tested on the Tour de France and other top professional cycle races.
Our Emergency activity tracker ID tags, are designed to attach to the Fitbit Flex but recently a number of opur keen cyclists have found that these metal tags are the ideal size to aatch to cycle helmet straps. So if you wear your cycle helmet on overy ride then you'll always have your ID with you if the Activity Tracker metal ID tag is attached to your helmet strap.
Our Emergency ID Helmet Sticker, can be attached to helmet, bike, equipment of mobile phone. Set up the online profile with a few clicks and then in an accident or if somone finds your bike, equipment or valuables they simply scan the QR code to access your emergncy contacts or emergency information. Once attached you won't forget your ID.
Our MiniTag ID, can be attached to keys, bike, saddle pouch or clothing. Available in a choice of cycling designs including our retro cycling jersey range. The MiniTag ID is a set of 3 durable PVC key fob sized tags costing £5.99 and are a great way to carry emergency contacts and medical information. Once attached they are always with you.
Our handy, Waterproof phone pouch and attached ID MiniTag with all your emergency contacts and information helps keep your phone dry on every ride.
An alternative idea is to keep OneLife iD's New Emergency ID Card in your wallet or purse or tucked in your smart phone case. Waterproof and durable it is a great product if you need to record lots of emergency ID information.
OneLife iD provide emergency and medical ID bracelets and wristbands for sports, travel and life and are engraved with the user's key medical or contact information for use in case of emergencies (ICE).