Squadra iD band 'recommended' in Cyclosport Review
Oct 09 2012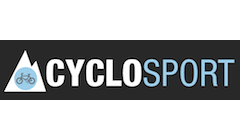 The OneLife iD band is, well, a band, it won't make you ride faster or increase power output by ten percent it is there to help you keep safe. It is simple in design and can let others around you know who you are in the event of an accident.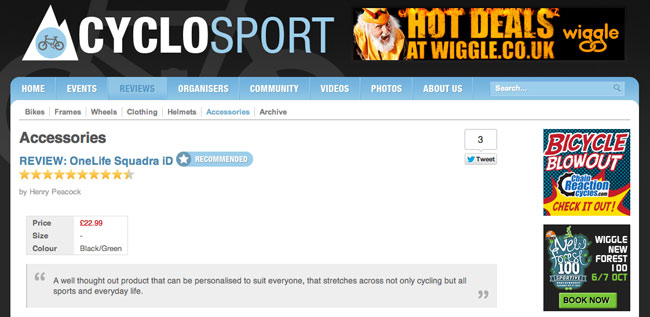 Nicely Boxed Up - The model I'm equipped with the Squadra iD came with a rubber strap, available also in many different materials and guises but they all have the same purpose. On the strap is an engraved metal plate; this contains all of your sensitive information, which could be needed, in an emergency.
You wear it when riding or participating in any sporting event and if you become injured or even unconscious whether from a fall or other incident this band can inform responders who you are. It displays your name, a QR code and an ICE (in Case of Emergency) phone number. This band is unique to you. You will be surprised how many people who are part of a tight knit cycling club, who may see each other a few times a week but how many know the phone numbers of their next of kin?
Easy Enough To Wear All Day - The QR code when scanned takes the user to a webpage that is individual to the band wearer; this can contain all medical information, addresses and further contact details of next of kin. Many first responders and paramedics now carry QR reading machines as they see the usefulness for those with medical conditions that need to be known upon initial treatment. This is especially useful for those who have heart problems, diabetes or those that may be allergic to certain types of medication.
The other advantage of having a QR code is that if you meet someone out riding on a sportive or club ride you simply scan their QR code and retain all his or her details. The company, OneLife wants to make a social network out of this product and I don't see why it couldn't catch on. You can also connect it to various established social networks, in my case these were Twitter, Facebook and Strava, all necessary in the modern cyclists arsenal of communication tools. OneLife also offer a full range of spare parts and customization that seems to be infinite.
The Personalised Web Page - The product comes well packaged with all the instructions you will need to set up your online profile. The band itself as I said comes in a huge range of materials and just needed trimming to length before being inserted into the watch type clasp. At 22.99 for this service I'd say it would make a great gift for someone as people rarely think about their own safety in the event of an accident. It is small piece of mind to know that you can be cared for correctly whilst in hospital or in the hands of paramedics.
A well thought out product that can be personalised to suit everyone and that stretches across not only cycling but all forms of sports and everyday life. To buy, visit their online shop here: http://www.onelifeid.com
Read the full review on the Cyclosport.org website