GB junior cyclist discovers the benefits of wearing Cycling ID
Jan 30 2019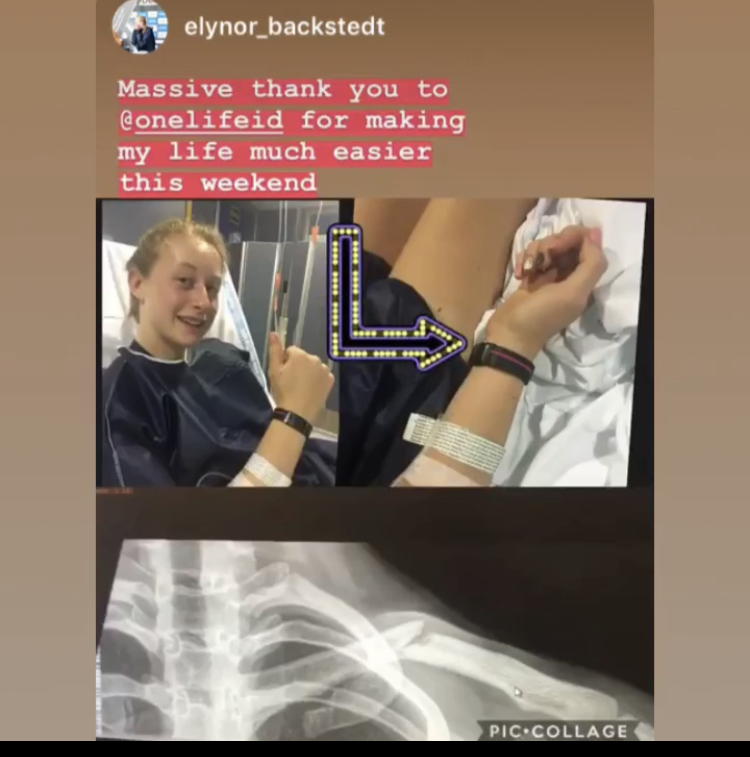 Elynor Backstedt is a member of the British Cycling team and in 2018, as a first year junior, she won bronze at the junior world time trial championships in Innsbruck, Austria.
After an autumn break, Elynor has been steadily building up her training and in December, like many top cyclists, she headed for Majorca, Spain to get endurance training in on Majorca's sunny, warm but mountainous roads.
Elynor is a OneLife iD user and when training wears her stealth squadra emergency ID wristband . As she headed out for her cycle training ride in Majorca little did she know how useful her emergency ID wristband was going to be. Elynor picks up the story. "I can remember we were doing leadouts and we kind of just ended up bashing together and then next thing, crash and I hit the ground. I knew as soon as I sat up that I'd broken my collar bone as I've broken the same one before and it felt exactly the same. I can't recall too much about what happened next as I had hit my head."
The ambulance and paramedics were soon on the scene. Elynor ended up staying the night in a hospital in Majorca, then flew home 2 days later to have the collar bone operated on at Frimley Park Hospital, Surrey. Elynor is recovering well, and said, "It's healing really well and I have got some movement back into it now. She is now back home and already back on her indoor training preparing for 2019. Elynor's goals for 2019 are the UCI world Championships in Yorkshire. Elynor hopes to compete in the time trial and road race. With the event on 'home' roads and being a year older and stronger is aiming for the top step this time.
In 2017 Elynor and her younger sister Zoe were both involved in a collision with car whilst out training. Thankfully, Elynor was wearing a helmet but she suffered concussion and had to stop training for eight weeks as a result of her concussion. The accident is a concern and it highlighted that no matter how careful you are when cycling it just takes one carless moment from another road user to cause a serious incident. Now Elynor and her sister have their OneLife iD cycling ID wristbands, they use them on every cycle ride.
Many cyclists enjoy cycling in warmer climates or riding on different or more challenging roads. Whilst riding on these training camps or breaks it makes sense to carry in case of emergency details as often those helping you may not be your normal riding partners and those providing medical support may find it easier to read the emergency contact information rather than there being any miscommunication.
Therefore, we recommend carrying or wearing a cycling ID with the type of in case of emergency information that Elynor included on her Stealth Squadra ID wristband namely:
Personal Details – name, date or year of birth, NHS or European Health Insurance Card (EHIC) number can be helpful
Emergency Contacts with international dialling code if you are abroad. We also advise that if your cycling regularly overseas it may be beneficial to put any important instructions in the local language eg Emergenza
Additional information – include Allergies, past medical history or medication or specific treatment instructions.
Remember with the OneLife online emergency record you can always add extra information such as travel insurance, medical documents, images, emergency instructions, crisis plans and additional emergency contacts.
If you need more advice on what information paramedics and emergency services like to see on your emergency ID read the article by senior paramedic Steve Shackleton - Top Tips on Information to include on emergency or medical ID bands.
The Backstedt cycling family
During the UCI Road World Championships in Innsbruck, Austria, Elynor Backstedt won Great Britain's first medal. Just 16-years old Elynor won bronze in the junior women's time trial.
Backstedt, completed the rolling 20 kilometre course in 27 minutes 20 seconds, just 18 secs slower than the Dutch rider who won gold.
Backstedt explained that she was surprised with her result following a bout of glandular fever earlier in 2018. It took a while to recover from the illness and once back into training her initial aim had been to just to be at the Worlds representing her country so to get a place on the podium was a dream come true. Later in the week Elynor competed in the road race where she played a team role. She led team mates into the steep and punishing climb part way through the race and she did well to position her teammate right at the front of the peloton for the start of the gruelling climb.
With a Tour De France cyclist, Commonwealth Games athlete, Olympians and British champion, the Backstedts are not your average family.
The family have won countless medals in cycling with Dad Magnus having won a stage of the Tour de France in 1998 and in 2004 the 'Hell of the North' Paris–Roubaix road race and Mum Meg having represented Wales at the 1998 Commonwealth Games in Kuala Lumpur. In addition to her 2018 bronze medal at the Junior World Championships Elynor became the first Team GB member to win a medal at the Youth Olympics in Hungary in 2016 and Zoe has won National titles.