Review of OneLife iD's range of Cycling ID wristbands and tags
Jul 28 2020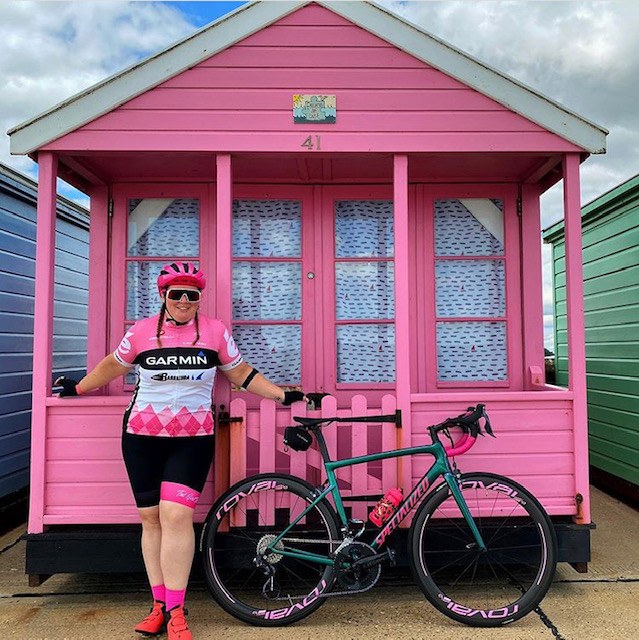 Cycling enthusiast and blogger Fat Girl Fit has been a long time customer and user of our Adventure ID band. She regularly posted photos of her cycle rides, often dressed in her favourite pink cycling kit with her matching Adventure ID band.
Drawn in by her enthusiasm to get out on the road with her cycling friends and her social media photos capturing the fun and enjoyment of her ride we asked if she wanted to try our range of Cycling ID products Cycling ID Products.
Good news for us, and for you, is that she accepted and below we have included a few extracts from her review. For the full review and many other cycling themed blogs check out the inspiring Fat Girl Fit blog at www.fatgirlfit.co.uk.
Fat Girl Fit Review July 2020
I often bang on about being safe and seen on the bike as I believe it is important, but what else can you do to help with safety on the bike? Thinking of accidents, injuries and even so far as worst case scenarios it is important to forward think of what can help in these sorts of situations both for riding solo and as part of a group to enable others to help you should the need arise.
A good friend of mine gave me an ID band as a gift one year – I have the pink because well, pink, and she has the yellow and the idea behind that is because we are both part of the same cycling club and the colours are yellow and pink (see what we did there). The bands are from a company called OneLife iD and they offer many items that hold personal information including medical conditions, emergency contacts and more.
A great image on the website from OneLife iD is their Vital Signs Information sheet, which shows some of the ways you can benefit from their products.
I have personally ended up post accident on the bike in the back of an ambulance and luckily I was riding with two very good friends, with my husband and one of their partners not too far from us in a car. Obviously I was not alone and they knew my husbands number to phone him as my emergency contact but if I were riding alone and without ID it could be slightly different. In this instance (you cannot make this up) the road was closed as I was out on the floor and the traffic was stopped in both directions. On one side of the stopped traffic there was a driver who was an off duty fireman and on the other side an off duty paramedic so I could not have been in better hands all round but that is obviously not always the case.
I had a friend who found someone at the side of the road and had the unfortunate experience of having to phone his wife to explain to her what was happening.
Carrying emergency ID is such a small, easy and inexpensive thing to do and OneLife iD offer so many options including, but not limited to stickers, tags and bands. When you purchase an item you set up an ID and this acts as your account and includes all relevant information that would be needed in case of an emergency and this can be set as read only and emergency details that can be accessed via your personal profile and pin given on your ID. You can read more and view a demo page here. You can also see in further detail the concept behind OneLife iD here.
You can really add as much or as little as you wish to your profile depending on your needs and there are tips on the website giving examples of information you may wish to include. I, for example, have no allergies or medical conditions but if I did I could include documents and detail that could be accessed should it need to be, including insurance documents, social media details if you want to add, photos and more. You can also update the online profile whenever needed and as the information is stored on your profile there is no need to purchase more items, unless of course you want to!
When you receive the items there is an easy to follow activation link you receive via email to activate the products and you are good to go. I was also impressed when I tested the QR codes and I received an email to tell me that my profile was accessed using the secure pin with date, time and approximate location. The purpose of this is to identify if it was unauthorised access should you be concerned your pin has been compromised. For me this was ok as it was me testing it but it does give instruction to contact OneLife iD to de-activate the pin if it was a security breach, which is good to know.
The cons? There are not many but a couple of things I would note:
For the Sports ID band and Lumo ID band the pin needed to access information is on the underside of the metal tag, which means if someone was going to use it to get your details to assist they would need to know to take it off and turn it the other way round. In the case of a real emergency would this be obvious? OneLife Note: On the website where an emergency responder goes to access the emergency profile emergency details (Emergency Details red block in top right hand corner of home page) there is a red section to enter the pin and alongside (or below on mobile) a green section showing how to find the pin on the ID band, tags nd cards.
For the items with details available via a QR code you are reliant on good mobile signal, which may not always be the case wherever you are.
I use for cycling but actually you can use for any sport and even outside of sport can use as an ID. This includes options for a social ID to share information with others both from a personal and business perspective, and IDs for other things such as luggage, kit, equipment and even the dog!
If you are part of a sports club these are great to have as something members can use whilst participating in whatever sporting discipline. They can be customised and start from as little as £4.99.
I was gifted these items but as mentioned I had a band beforehand and all opinions are my own.
Full review available here.
OneLife iD were delighted with the review and the items Fat Girl Fit reviewed included:
Sports ID Band – £18.99 – this is one of the newer emergency ID products and strap is similar to a silicone apple watch style strap and totally adjustable.
Helmet Sticker ID pack – £9.99 – perfect cycling ID. This is a packet of 7 stickers that you can use as you wish whether you put them on your bike, helmet, phone or other kit or a mix of all as you have enough to cover all options really. Ideal for cyclists as once attached to your helmet you will not forget it.
Mini Tag ID – £6.99 – super small PVC Tags in a range of colour and can attach to a key ring, bike or clothing or be put inside a wallet.
Lumo ID Band – £22.99 – adjustable silicon strap in a range of colours.
Medical ID Card – £5.49 – same size as a credit card so could go in a bag, wallet or the back of your phone case and includes all emergency info needed including medical details. This card can hold detailed information which is crucial for a medical responder to ensure you receive the appropriate care/treatment that you need.
Adventure ID band – £16.99 – a full silicon band in a range of colours. Tough and durable with personalised ID tag.