Partnership with Tour of Cambridgeshire & Ayrshire Gran Fondo
Mar 04 2017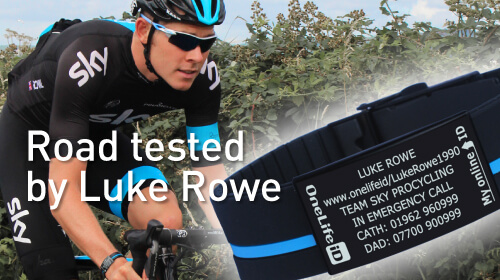 The increasing popularity of road cycling across the UK has been recognised by cycling's world governing body, the UCI. The UCI have awarded Golazo Cycling Limited, the UK arm of Golazo Sports NV, the licence to run two Gran Fondo cycle events that provide cyclists with the opportunity to race on closed roads and qualify for the 2017 UCI world championships in Albi, France.
OneLife iD is delighted to announce that it has partnered with Golazo Cycling for the UCI's Tour of Cambridgeshire and Tour of Ayrshire Gran Fondos. OneLife iD and Golazo have developed a range of Cycling ID bands and tags, in event colours and designs, to help event participants carry emergency, medical or contact information.
Golazo Cycling are committed to ensuring their events are worthy of the prestigious UCI status and this includes rider safety. The Golazo team wanted to make it easy for riders to carry an effective form of emergency ID during the race and the hundreds of miles of training needed to prepare for such an event.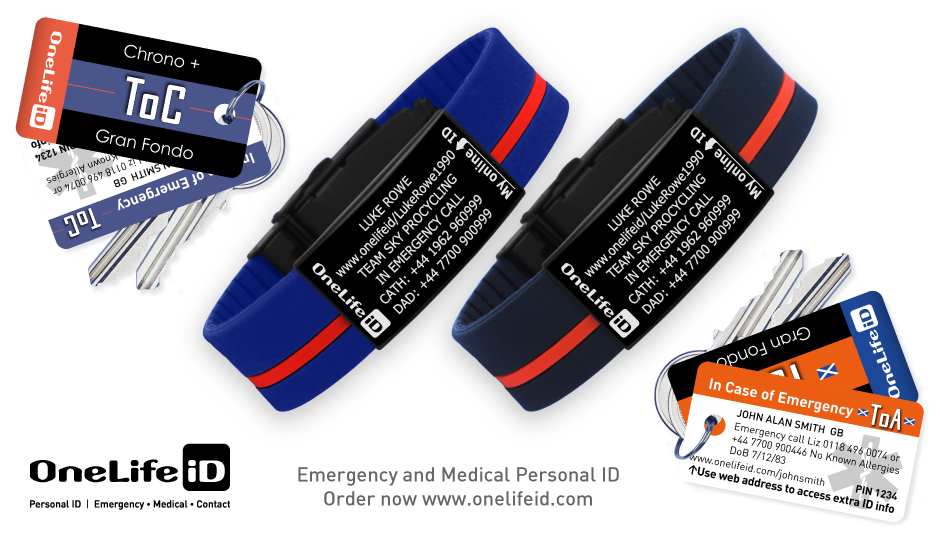 Golazo Cycling turned to OneLife iD, with their innovative, personal sports and emergency iD Wristbands and tags, for a solution. Golazo UK Managing Director Malcolm Smith said, "We were looking for an Emergency ID partner. OneLife iD offer a range of cycling specific sports ID products that are tried and tested and are personalised with individual rider's emergency contacts and medical information."
As Craig Wilson from OneLife iD said, "Too many cyclists are competing, training or cycle commuting without carrying a useful form of sports or emergency ID. We wanted to make it easy for cyclists to incorporate wearing or carrying an ID into their ride routine. We designed a range of specialist ID products for cyclists and Team Sky's Luke Rowe tested them for comfort and durability during last year's Tour de France." OneLife iD offers an affordable cycling ID solution costing between £6.99 to £23.99 and providing a choice of ID products that can be worn or attached to clothing, kit or bike.
About Golazo Cycling's Tour of Cambridgeshire and Tour of Ayrshire
In 2015 the UK's first UCI registered Gran Fondo was organised as the Tour of Cambridgeshire. This first event provided the opportunity for nearly 10,000 cyclists to compete in cycle racing on the open roads. The event also offered the opportunity for cyclists to qualify for the UCI World Masters Championships.
Following the exceptional success of the 2015 and 2016 events Golazo Cycling Limited, the UK arm of Golazo Sports NV, a Belgian sports marketing company with worldwide reach, extended their events with the addition of the Tour of Ayrshire. Both events offer the chance to gain the 'professional cyclist race experience' racing on the open roads and the opportunity to represent Britain at the UCI world championships in August.
The Tour of Cambridgeshire Cycling Festival will be run from the 3rd to 5th of June 2017 and the Tour of Ayrshire events on 29th and 30th of April 2017.
About OneLife iD
OneLife iD was established in 2012 and has designed an innovative set of ID products suitable for athletes and families. The Golazo Cycling ID band and tags offer users the following benefits:
A personalised emergency ID wrist band or tag in event colours with text and web link to an online personal iD profile.
Online ID profile includes 'secure' emergency contacts, detailed medical information and documents.
Online profile can be updated whenever details change and users can add extra documents, photos or attachments.
Click here to find out more www.onelifeid.com/page/golazocycling