Top Ironman triathlete wears OneLife Sports ID wristbands
Aug 19 2017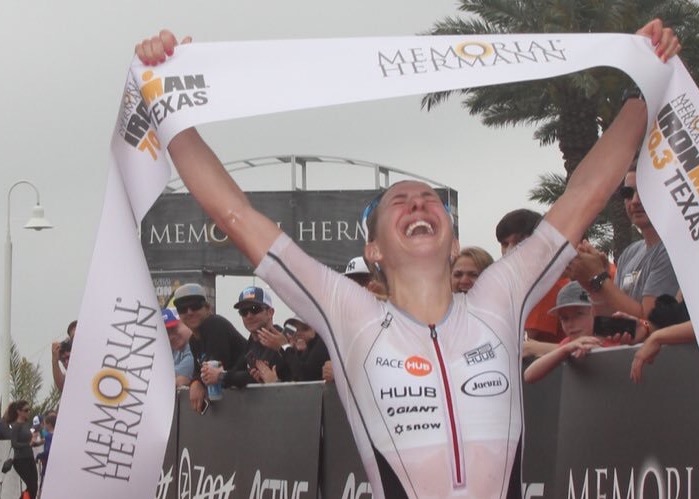 Kimberley Morrison is a professional Triathlete with 2 Ironman 70.3 wins and 6 podium finishes. Kimberley is one of a number of top athletes that use OneLife iD sports and emergency ID bracelets and bands when they are racing and training (Click to find out more). As Kimberley says, "It is actually now part of me, I rarely take it off".
Kimberley is currently fine-tuning her preparation for the Ironman 70.3 World Championships in Chattanooga, Tennessee on 9th September. We wanted to understand more about one of Britain's top female triathletes so during one of her brief periods of downtime we asked her some questions. Read on to find out more.
OLID - How did you start doing triathlons?
KM - When I was at school we were introduced to triathlon, having one event hosted each year where the keen "sporty" school kids would take on the teachers. In my final year at school I won the competition which included beating all the staff….. some were not happy, I was delighted!
I then came back to triathlon in 2012 and raced for the GBR AG team. 2014 was a fantastic year for me when I became European AG Champion in Kitzbühel, Austria. In late 2016 I was granted my professional race license by British Triathlon and I have enjoyed 2 x Ironman 70.3 Wins and 6 Podiums.
Training day to day is a gift and I am so grateful for the opportunity. I was working in the world of banking in London and fitting training in alongside but since marrying my best friend Ben and moving back to Norfolk, where we grew up, I can dedicate up to 25 hours per week training.
OLID - What does training look like?
KM - Swimming up to 20km per week in a 25m pool. I rarely open water swim due to the risk of illness, plus the UK waters are chilly!
Biking - we don't put big mileage in on the bike, but we do bike smart. Mixing up time spent on the Watt Bike and out on the road and covering up to 300km per week.
Running. I am very respectful of this discipline having suffered a stress fracture late 2016. We build up the mileage at a sensible rate and presently I am running up to 75km per week. I have seen the new Run ID with event barcode and they look great. (Click to find out more)
OLID – Which OneLife iD sports and emergency ID products do you use?
KM - Having undergone complex heart surgery as a young girl, OneLife iD products give me the opportunity to never be without emergency contact details and reference to my younger surgery. I have the ID MiniTag on my keys which is perfect when I am out and about or on the road or travelling far without family (Click to find out more).
I also love the Stealth Squadra sports ID wrist band. I was able to customise to my exact colouring requests so it matches the kit and equipment I use for swimming, biking and running. It is actually now part of me, I rarely take it off!
OLID – Would you recommend OneLife iD emergency ID to friends and family?
KM - I would absolutely recommend OneLife iD products to family and friends for peace of mind. Whether you have a medical condition or not, it is always important in our busy day to day lives that we have contact details close to us in case of an emergency.
I have unfortunately been part of a triathlon event where a competitor sadly passed away due to a cardiac arrest. It would be reassuring to know that all competitors wear an OneLife iD band so family and friends can be contacted as quickly as possible.
OneLife iD isn't just for me and my "human" family though. The absolute gem in our lives is our Alaskan Malamute Suka who can also benefit from OneLife iD with customisable tags for your perfect pooch!