Luke Rowe road testing OneLife iD wristband at Tour de France
Jul 24 2022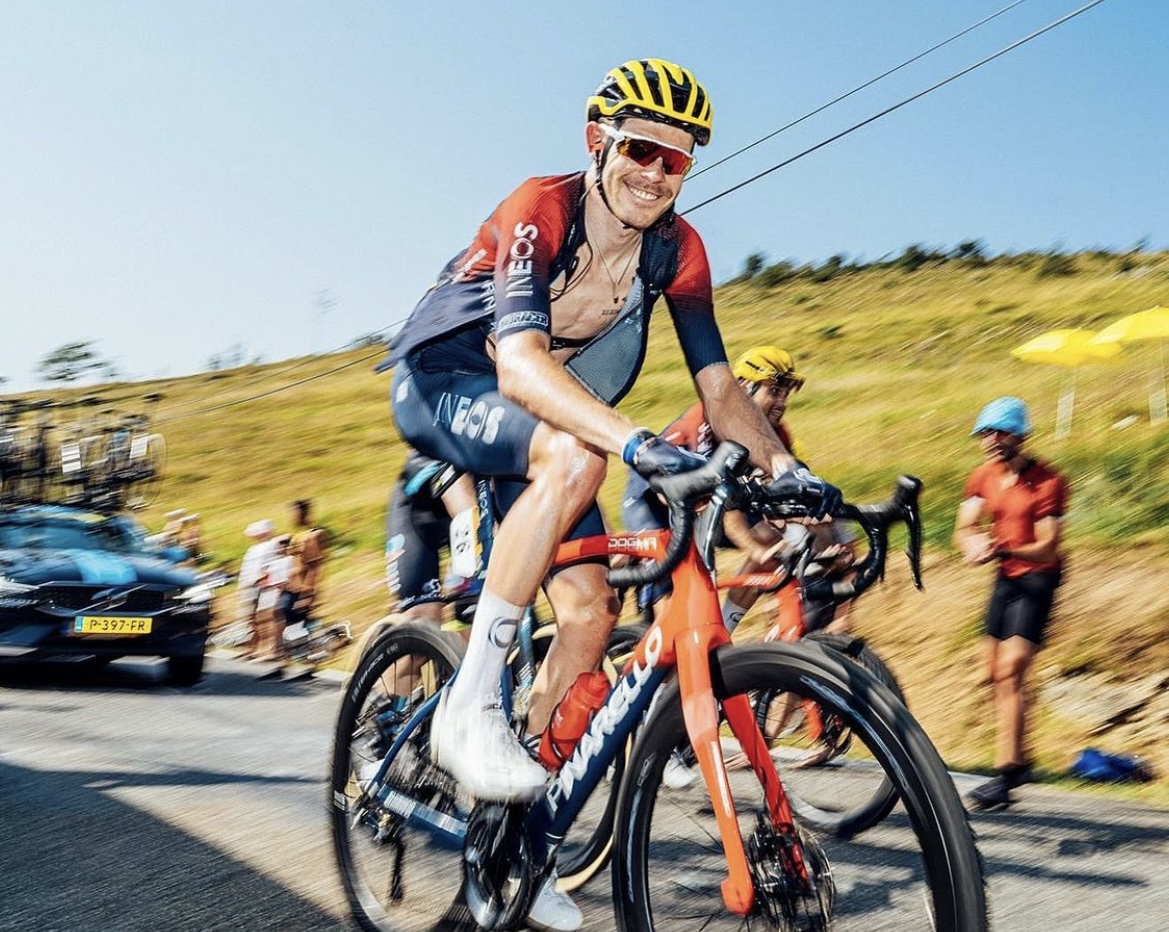 Luke Rowe is a OneLife iD wearer and at this year's Tour de France he has been wearing our Stealth Squadra ID wristband, one of our sports emergency Cycling ID Products. On July 24thhe rides into Paris, part of the Ineos Grenadiers team that will take the accolade of being the leading team. Plus, with an Alpe d'Huez stage win from Grenadier Tom Pidcock and his fellow Welsh team mate Geraint Thomas in third overall, Ineos Grenadiers will be well represented on the podium on the Champs-Élysées.
In 2022 Luke started his tenth cycling season as a professional rider. Luke is an advocate of cyclists wearing or carrying a form of personal identification. As Luke knows the unexpected can happen and carrying emergency contacts on his rides provides re-assurance for his wife and growing family.
Luke has spent his entire professional cycling career with Team Sky and Ineos Grenadiers since he turned professional at World Tour level in 2012. He is one of the squad's main riders in the cobbled Classics and has been on the Tour de France team on numerous occasions.
On a race like the Tour de France Luke Rowe really puts the OneLife iD products to test. This year's extreme temperatures and the cobbled roads of the mini Paris-Roubaix stage tested both durability and comfort. OneLife ID's founder Craig Wilson continued, "A lot of sports men and women use our emergency ID products. These include top cyclists, athletes, runners, triathletes through to adventurers. Durability and comfort are very important. Whilst many sportsmen understand the need to carry an in case of emergency ID but do not want to compromise their training or race efforts. With the feedback we get from Luke Rowe and other top athletes we have been able to refine the products so that they are confortable and do not compromise performance. This is part of the OneLife iD programme, enabling athletes and families to carry in case of emergency information by raising awareness of the benefits, the information that is required and providing ID products that work no matter what they enjoy doing."
With Luke, our OneLife iD Stealth Squadra iD, Freestyle iD Wristband and woven nylon NATO iD Wristband wristbandshave all 'finished' the Tour de France, so we know that our all our emergency sports IDs can withstand the demands of the worlds toughest endurance event and therefore meet the needs of most athletes, families and children".
OneLife iD offer a full range of cycling specific ID products- perfect for racing, training or leisure and any discipline including road, off-road or commuting.
These IDs include:
Helmet Strap ID Tag – an engraved metal tag in black or stainless finish that fits onto most helmet strap. With you on every ride.
Helmet Sticker ID Cycling Helmet Sticker ID– 7 stickers ideal for cycling helmet, phone, bike and more. Scan the QR code and it connects straight to your online emergency ID profile. With you on every ride.
Our MiniTag ID MiniTag ID can be attached to keys, bike, saddle pouch or clothing. Available in a choice of cycling designs including our cycling jersey range. The MiniTag ID is a set of 3 durable PVC key fob sized tags costing £5.99 and are a great way to carry emergency contacts. Once attached you won't forget them
An alternative idea is to keep OneLife iD's ID Medical Alert ID Card in your wallet or purse or tucked in your smart phone case. Waterproof and durable it is a great product if you need to record lots of emergency ID information.
OneLife iD provide emergency and medical ID bracelets and wristbands for sports, travel and life and are engraved with the user's key medical or contact information for use in case of emergencies (ICE). Click to view the range of wristbands and Medical ID products.
Want to know what details to put on your ID tag or ID wristbandthen read our article by Senior Paramedic Steve Shackleton. A keen cyclist, paramedic and adventurer, Steve understands the needs of athletes and families and worked with us to detail the information that Paramedics and Emergency Services need to access in the event of an emergency. When it comes to personal identification everyone has different needs but the guidance is useful in helping you to understand what emergency services need.
Identity information

Medical information – allergies, medication and past medical history

Emergency contacts
The guidance helps you assess what information you need to include on your ID and which of the OneLife ID products (ID wristband, sports ID, medical alert bracelet, ID card, ID tag) best suits your needs.
Click Here to find out more.