New Medical ID bracelet with woven nylon strap from OneLife iD
Jul 30 2017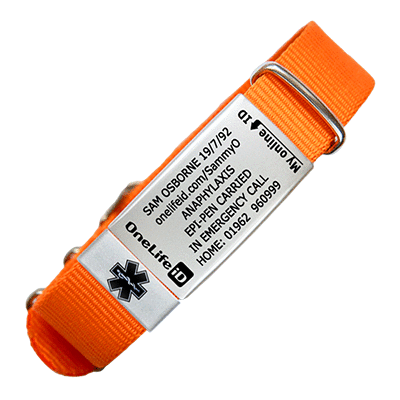 The new Medical ID bracelets from OneLife iD feature a woven nylon watch strap with stainless steel or black anodised ID tags for your medical information. Each medical ID also includes a steel engraved 'slide on' medical symbol badge.
The band can be engraved with medical information including:
Who you are – name, date of birth or NHS number
What's up – details of medical conditions, allergies or medication
What next – any immediate treatment, medication or instructions.
The woven nylon strap is based on the NATO G10 military watch strap so it can withstand water and sweat, making it perfect for everyday wear. The durable one-piece strap is fully adjustable and can securely hold the steel medical ID tag on your wrist. The band has a silver-tone buckle and two rings to secure the strap end.
As with all OneLife iD products the medical bracelet includes details of your OneLife online medical profile where you can store additional medical information (Click to find out more). It can hold medical documents, instructions and can be updated whenever your details or medication changes – Read what one of our users had to say:
"I have to thank you for the OneLife ID scheme. It saved my life at a medical conference on Monday - as a result of it the team there decided I couldn't wait for an air ambulance and (after suffering from a severe medical incident) I am one of a very few adults that was treated for this condition and saved. The doctors were so impressed they will now be recommending those attending the hospital that they get in touch with your website to order a medical alert bracelet."
View our Black Tag Medical ID bracelet and Stainless Steel ID Tag Medical ID bracelet