New Run iD Tags with event barcode option from OneLife iD
Jul 30 2017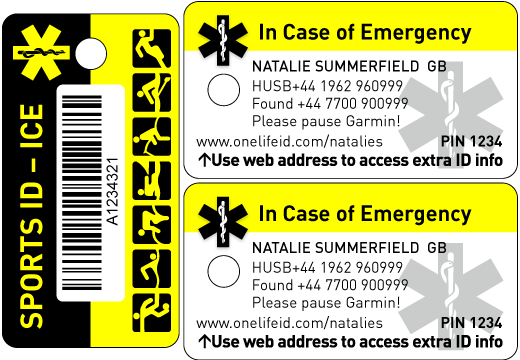 The new Run iD Tags from OneLife iD are a revised version of the popular and affordable ID Minitags that are currently in use by thousands of people including those taking part in sporting activities. The Tags are a convenient way for runners to carry emergency ID and event barcode information for their park or club runs. Each Run iD Tag set features 3 copies of a personalised ID Tag which can be easily attached to keys, clothing, shoes or just carried in a pocket.
The tags can be printed with personalised information including:
Who you are – name, date of birth or NHS number
What's up – details of medical conditions, allergies or medication.
What next – emergency contact details or medical instructions.
Additionally the Run iD Tags also feature dedicated space for an individual's event barcode (using the industry-standard CODE 128 format in use by most organisations in the UK)
As with all OneLife iD products the Run ID Tags can include details of your OneLife online medical profile where you can store additional medical information.(Click to find out more). The online profile can hold medical documents, instructions and can be updated whenever your details or medication changes.
View our Run iD Tags with barcode option or our full range of medical and emergency ID Tags and Cards.