Our top 3 Skiing Emergency IDs
Nov 12 2022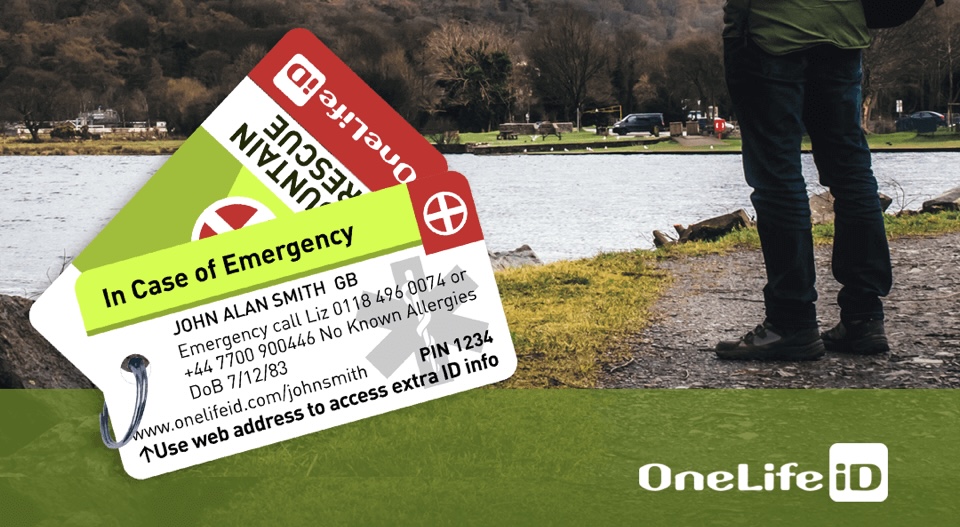 It's that time of the year when some are planning a ski holiday. Accidents can happen on the slopes and knowing that people in your group are carrying emergency personal identification provides peace of mind for all the party and helps responders get access to emergency contacts, key medical information and important insurance details quickly. Plus with the group spread far and wide, having contact details or Hotel or resort names can always help people find their way home.
We are often asked what emergency ID is best for skiing? So here are our top 3 wintersports products whether you are Skiing, Snow boarding, cross country skiing, off-piste or ski touring
Helmet Strap ID Tag – an engraved metal tag in black or stainless finish that fits onto most ski helmet straps. If you are wearing a helmet it is with you all the time.
Helmet Sticker ID– 7 stickers ideal for ski helmet, ski pass, phone, snow board, skis, poles and more. Scan the QR code and it connects straight to your online emergency ID profile. If you are wearing a helmet or carrying your ski pass pr phone it is with you all the time.
Our MiniTag ID can be attached to clothing, zip fastner or ski pass. Available in a choice of designs including our mountain rescue team range which was inspired by the tags we produced for Llanberis Moutain Rescue Team. The MiniTag ID is a set of 3 durable PVC key fob sized tags costing £5.99 and are a great way to carry emergency contacts. Once attached you won't forget them
So which of the 3 are the best? Everyone's needs are slightly different so here are some points to take into consideration:
Keep it simple and affordable for all the family - we think the best all round products are the MiniTag ID. At £5.99 plus postage for a set of 3 tags they are affordable, they are easy to use as with the supplied split rings you can attach to clothing, gloves, jacket fastener, ski pass or whatever takes you fancy. Available in a range of different colours and style with a number of high visibility options with emergency logos they really do stand out, we even do a Kids version of the MiniTag ID. These tags really make sense, each tag has 4 lines of emergency info which is enough for name, emergency contact plus hotel or ski insurance information or if needed details of any medical conditions. Everything is printed ready for those helping you to contact important people and get the information they need. These are great for the kids too - add Mum or Dad's contact info, the Hotel name etc and should the kids get lost in the ski resport or on the slopes then they come in very handy - plus it has been known to save the wayward adult who over indulged during Apres Ski.
Want an ID that is convenient, informative and ultra durable thern consider the Ski Helmet Strap ID Tag. The engraved metal tag in black or stainless finish includes up to 4 lines of custom engraving. Add your name, emegency contacts, ski insurance information and any medical conditions and simply slide onto the strap of your ski helmet. Each tag comes with a helmet In Case of Emergency 'ICE' information carrier sticker which alerts responders to the fact that you are wearing or carrying an emegency ID. If you are wearing a helmet it is with you all the time.
Happy with a high tech solution? The Helmet Sticker ID is very cool and includes 7 stickers that can be added to ski helmet, ski pass, phone, snow board, skis, poles and more. Scan the QR code and it connects straight to your online emergency ID profile so people can access your emergency details or get in touch to return lost items.
We have lots of great stories of how the emergency ID products have helped. From full on emergencies with the ID ensuring Mum and Dad were on the scene quickly, lost ski passes being returned before the skier had even got back to the hotel through to a lost child being quickly re-united with big brother. If you have one please let us know.
These are definitely our top 3 but an alternative is to put a OneLife ID Medical Alert ID Card with your ski pass, pocket or in your wallet or purse or tucked in your smart phone case. Waterproof and durable it is a great product if you need to record lots of emergency ID information.
OneLife iD also provide emergency and medical ID bracelets and wristbands for all sports and these are engraved with your key medical or contact information for use in case of emergencies (ICE). Click Here to view the range of sports ID wristbands.
Want to know what details to put on your ID tag or ID wristbandthen read our article by Senior Paramedic Steve Shackleton. A keen skier, paramedic and adventurer, Steve understands the needs of athletes and families and worked with us to detail the information that Paramedics and Emergency Services need to access in the event of an emergency. When it comes to personal identification everyone has different needs but the guidance is useful in helping you to understand what emergency services need.
Identity information
Medical information – allergies, medication and past medical history
Emergency contacts
The guidance helps you assess what information you need to include on your ID and which of the OneLife ID products (ID wristband, sports ID, medical alert bracelet, ID card, ID tag) best suits your needs.
Click Here to find out more.