New range of colours for our slim line emergency and medical ID
Feb 26 2018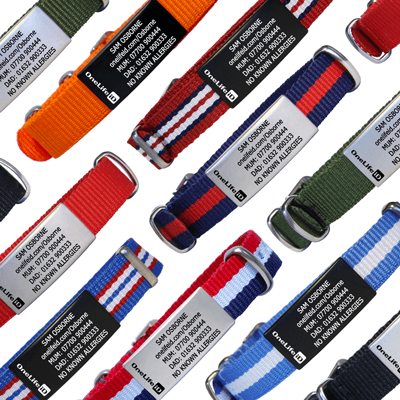 We have just added some new colours to our range of woven nylon slim line ID bands. Ideal for children or those with slimmer wrists.
The woven nylon watch style strap is tough and durable so ideal for everyday use and outdoor activities plus it is available in a choice of over 8 different colours. Available with a black anodised or stainless steel tags the ID can be personalised with your choice of medical information or emergency contacts.
The slim line ID wristbands are ideal for children with medical conditions, allergies and provide peace of mind for parents when the children are enjoying life outdoors, on holiday or at school.
OneLife iD's Craig Wilson said "We understand from parents that some children and teenagers don't wear a standard medical ID because it makes them different or stand out from their friends. With our new woven nylon strap in a wide range of colours we have created an ID band that is like a 'music festival' band and children want to wear them.
Click here to view the Child ID with black Tag or here to view the Stainless Steel Tag version
Click here to view our range of child medical and emergency ID bands, braceltets and tags