Sports ID gift ideas for Mothers Day
Mar 10 2022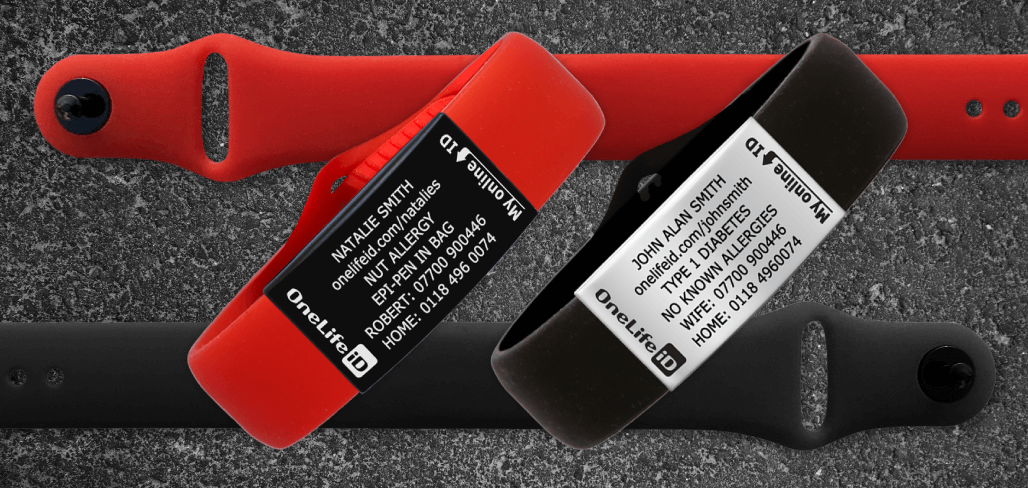 Looking for Mother's Day Gift idea? Does your Mother love the outdoors, enjoy being active or is a little too adventurous? OneLife iD emergency, sports and medical bracelets, wrist bands and tags make the perfect Mothers Day present. They provide Mum with indepenedence as carrying or wearing the ID provides confidence and reassurance that personal identification with useful emergency contacts or details of any medical conditions is close at hand and provide it ensures Peace of Mind for friends and family.
For the month of March, leading up to Mothers Day on Sunday 27th March 2022 use discount code LOVEMYMUM to receive 10% off any OneLife iD products.
Whether Mum is a keen cyclist, fitness fanatic, runner, horse rider, loves walking the dog or being outdoors then one of our emergency ID products will fit with her lifestyle.
We have selected a number of personal identification products that we think might be suitable for Mum's no matter what they enjoy doing. Here's our selection:
1- Sports ID wristband with Apple Watch style pin and tuck fastening
A soft silicon adjustable strap (20mm wide) with Apple Watch style pin and tuck fastening. Our Sports ID is suitable for indoors and out, comes in a range of colours and is personalised with up to 5 lines of engraving. If Mum likes the latest tech there is even a QR code option which when scanned goes to their online emergency profile.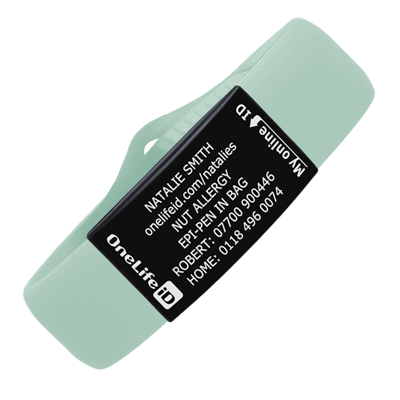 Price: £18.99
2 - Freestyle ID wristband with Stainless Steel ID Tag is available in 3 sizes and offers a choice of stainless or black steel ID tags. Lightweight and slim line (12mm wide), this sports ID wristband is ideal for active Mums. Waterproof and durable they are ideal for sports and activities both outdoors or in the gym.
Price: £14.99
3 - Emergency ID wrist strap with woven nylon strap and stainless ID tag
Another option is our woven, nylon strap ID bracelet with watch style clasp which is available in a range of colours and designs. The Emergency ID features a waterproof and durable 18mm strap and steel ID tag. All our ID bracelets are personalised with your choice of emergency information engraving.
Price: £20.99
4 - Emergency ID wristband with bright Lumo coloured silicon strap and black tag. This emergency ID wristband really stands out as it is available in a choice of 8 bright coloured silicon straps, and the strap and fold over clasp means it fits any adult wrist size. The smart anodised black steel tag is engraved with your choice of emergency instructions, contacts, medical conditions or allergies.
Price: £22.99
For our full range of ID wristbands Click here
5 – Cycling Helmet ID tag for helmet strap
Ideal for cyclists. The steel ID tag in black or stainless finish is personalised with 4 lines of emergency info and fits onto the helmet strap with its slotted back. Ideal for all that enjoy cycling and ideal for children's cycling helmets as the emergency ID contact information is with you every ride.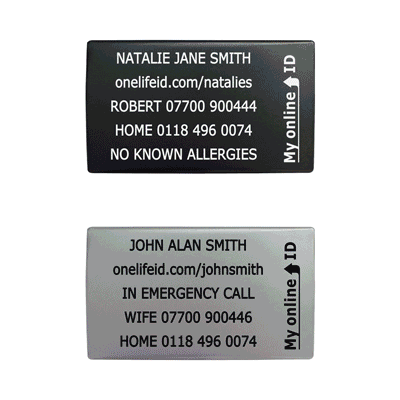 Product & Engraving
Adjustable slimline woven nylon watch strap

Personalised stainless steel12 mm ID Tag

4 lines of emergency text engraving

Online profile for extra emergency ID info

Peace of mind - medical, allergies or emergencies
Price: £15.99
6 - MiniTag iD Tags
For active Mums there is the Key ID Tag – at £7.49 for 3 tags these are a convenient way to carry emergency contact information or medical details. Just attach to key ring, bags and belongings or tuck into your phone case. These durable PVC tags are available in a wide range of designs and printed with personalised contact, emergency or contact information.
Product
3 PVC ID Tags printed with ID info

Each Tag one third size of credit card

Durable, lightweight tag with split ring
Printing
Personalise with 4 lines of emergency, medical or contact details

Printed in range of colours and designs
Price: £6.99
We also do a range with fun designs for kids –ideal for holidays, trips and school bags. Click here
7 – ID Tags for Activity Tracker and Sports Watches
These handy steel tags are available in black or stainless finis. They can be personalised with 5 lines of engraving and fit onto a range of fitness and sports watches with a strap up to 22mm wide including:
Apple Watch

Fitbit Charge, Charge2

Garmin Fenix 5, 5S, Forerunner 620

many others with straps between 20 and 22mm wide.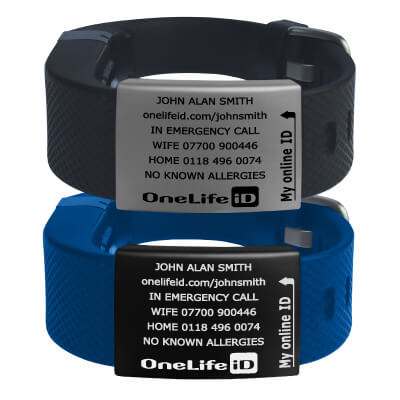 Price: £13.99
8 – Emergency QR Code Stickers
Pack of 7 emergency ID stickers which can be attached to helmet, equipment, bike, sports kit, electronic devices (laptop, phone etc), lunch box, glasses case, ear bud case and valuables. QR code and web address link to your online profile with emergency contacts and medical information. This handy sticker pack includes 4 emergency stickers and 3 contact information stickers.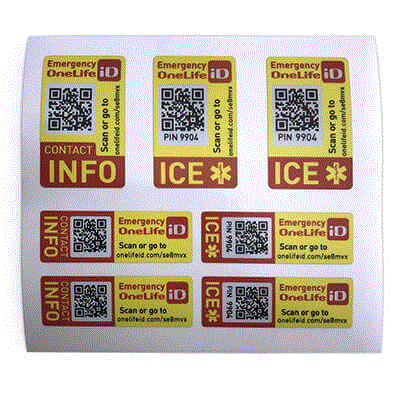 Price: £9.99
9 - Medical Alert and Emergency ID Card
For those that prefer a more traditional emergency ID here is the Medical ID card. The ID Card for wallet or purse has the benefit of being able to include much more medical information and emergency contacts. The Medical Alert and Allergy ID Card is a convenient way to carry emergency contacts and instructions for medical conditions, allergies or for everyday peace of mind. Personalised with details of your allergy and instructions on what to do next.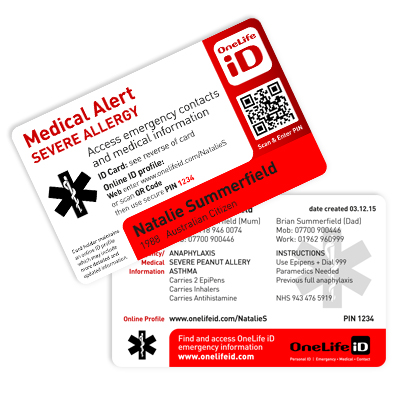 Features
Customisable main heading shows condition

Up to 20 lines of emergency & medical info

Durable print & 5 colours on tough PVC card

Online ID profile for extra info

Mobile ICE screen & alert sticker
Price: £5.49
If you want to know what to put on your ID tag or ID wristband then Click here to find out more.
Benefits
Here are some of the benefits of Mum's carrying emergency identification:
ID themselves - our emergency ID bracelets and tags make it easy to carry In Case of Emergency contacts or medical information.

Ensure important medical information, medication or instructions are visible and available to emergency responders or carers

Deliver 'Peace of Mind' for all the family and friends

Securely store medical documents and information - every OneLife iD includes a personal online ID profile. The online profile can store extra information including emergency contacts or additional details including medical conditions, treatment plans and much more.