Apple watch style silicon ID straps in new range of colours
Sep 23 2020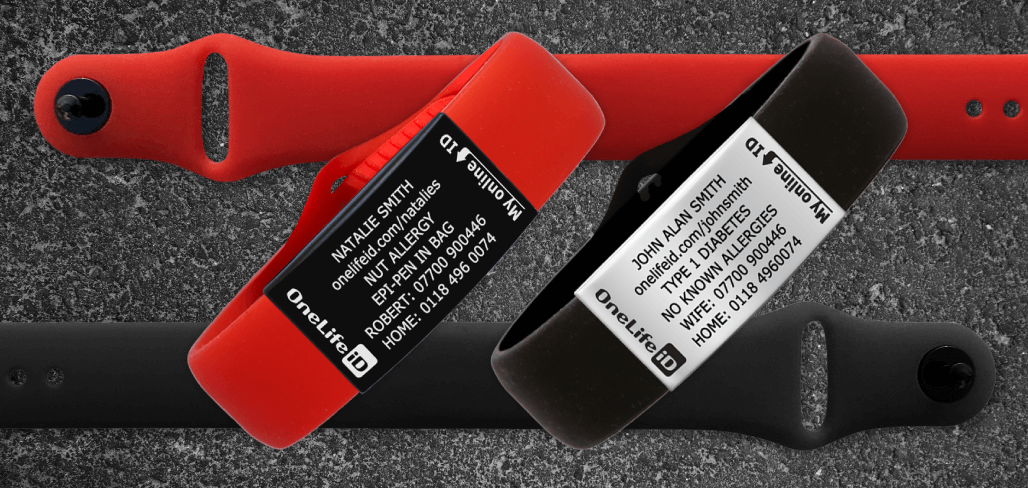 New colours are now available for our Sports and Running ID wristband. The soft silicon strap is ideal for running, cycling and most other sports or activities because of the following features:
apple watch style pin and tuck closure can be fastened comfortably and securely. Fully adjustable so the emergency ID band can be worn next to skin or over clothing to ensure it is seen by emergency responders

ID wristband that is easy to fasten and adjust so it can be used by people of all ages from young to old

soft silicon strap with no metal fastening so the sports and emergency ID is comfortable when worn whatever you are doing

lightweight, durable and waterproof sports ID which is ideal for running, cycling, water sports, equestrian or even walking the dog
In 2019 we trialled the new sports ID strap in red and black. Its comfort and ability to adjust to fit on your wrist or over clothing meant that it proved popular with athletes and families whether they are focussed on sports and fitness or just needing peace of mind that they are always carrying personal identification for when things don't go to plan.
More colour choices
For 2020 we have added 4 mopre colours (duck egg blue, tangerine, blue and white) to the original red and black options. We are sure that there is a colour to suit all ages or genders or to match your clothing, kit or bike.
In addition to the 6 colours our pin and tuck sports ID bands also offer a choice of ID tags. Stainless steel or black anodised black anodised ID tags can be engraved with up to 5 lines of emergency contacts and medical information such as:
Who you are – name, date of birth or NHS number

What's up – details of medical conditions, allergies or medication.

What next – medical instructions or immediate actions or who to contact.
If you want more information on what information paramedics find useful in an emergency then read our quick guide (Click to find out more).
Emergency Online Profile
In addition to your ID's engraved details the OneLife iD online personal emergency ID profile provides a place to record and store any additional emergency, medical and contact information, documents and images.
Each OneLife iD product includes a unique web address (URL) which can be accessed by typing the url into your web browser or by scanning the QR code e.g. type in the web address or scan the QR code which will take you to the OneLife web address e.g. onelifeid.com/DanRob. The unique web address once activated and set-up by the user provides a series of web pages that the user can use to provide supplementary emergency, medical or contact information.
With this personal online ID profile, users can add more information including extra emergency contacts, detailed medical information including documents, images and web links. Plus you can update information when details change.