Who do you wear your emergency or medical ID for?
Nov 20 2018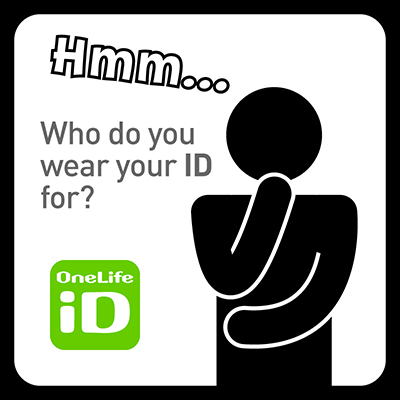 Who do you wear your medical alert or emergency ID emergency ID for? Yes it could save your life but it can also really help those with you in your time of need. From friends with you, emergency responders or paramedics providing medical support through to providing peace of mind for family at home.
Our range of medical and emergency ID bracelets, cards and tags, are suitable for all the family whatever they enjoy doing.
At OneLife iD we hear many stories about how OneLife iD sports, emergency and medical IDs have helped provide medical information or enabled first responders to quickly contact friends and family. What is clear is that in addition to saving lives our medical ID bracelets and emergency ID cards and tags are also really useful to those with you during your time of need.
We understand some who say, "I don't have any medical issues or allergies and my friends know where I live". True but the unexpected can happen, so why not wear an emergency ID and make life a bit easier or less stressful for the people with you, those trying to help you and those at home:
Paramedics and Emergency Services – the medical ID information helps them promptly identify any hidden medical conditions or allergies, provide the support you deserve and record the information they need.
Friends with you – we've been there with an incapacitated friend and one can feel so helpless. An emergency ID can help those with you to provide some immediate support and contact those at home to let them know what has happened.
Family at home – an emergency or medical ID provides reassurance to those at home that should anything unexpected happen then your important information is with you and emergency contacts will be contacted quickly.
Help them to help you – wear an iD for those with you, those helping you and those at home.
Not sure what information to put on your medical ID bracelet – Read our Top Tips - what information to put on your emergency ID.