OneLife iD's best emergency ID products for cyclists
Feb 28 2022
We are often asked which of the OneLife iD personal emergency identification range is best for cyclists so here are our ideas for all cyclist needs in terms of emergency identification. With OneLife iD's range you can use a single product or a range of linked products to provide a personal identification solution no matter who you are and whatever form of cycling you enjoy.
We offer a complete range of products for pretty much all cyclists needs.
The go to cycling ID product is the emergency ID wristband. The benefits being that a wristband is widely recognised as a source of emergency information and responders at an accident, whether a paramedic, emergency services or a Good Samaritan, will often check the wrist for medical information. So the wristband is our most popular product but has the slight drawback that you have to remember to wear it on every ride. We recommend establishing a routine that ensures you wear it on every ride.
Here are our most popular cycling ID wristbands.
Sports ID Sports band – with a black metal engraved tag personalised with your choice of emergency details the Sports ID band features a plain coloured silicon apple watch style strap and ID tag. The benefit of the silicon straps pin and tuck fastening is that it is fully adjustable which means you can adjust to fit over winter cycling jerseys so that it is visible during cold weather riding which immediately attracts the attention of first responders. Additional benefits of the all silicon strap are that it is lightweight and extremely comfortable.
Stealth Squadra Emergency ID band – also features the very durable black metal tag and 5 lines of custom engraved information. The stylish Stealth Squadra features a black metal folding clasp and the silicon strap with detail stripe to match kit or bike. The Stealth Squadra was launched in 2013 and worn by our favourite World Tour cyclist Luke Rowe of Team Ineos.
We also offer a range of other ID wristbands popular with cyclists including the slim line strap of the Freestyle ID band, which Luke Rowe wore in the Tour de France. View our full range of ID Wristbands.
Our other cycling ID best sellers are the helmet strap emergency ID tag, helmet sticker ID and Mini Tag ID. These products all have the benefit that you can attach to key cycling equipment or your bike so they are with you on every ride.
Helmet strap emergency ID tag– a metal tag engraved with 4 lines of your choice of emergency information and is available in stainless or black finish. The open slot on the back of the tag enables the tag to fit onto a cycling helmet strap so emergency contacts and medical information are with you on every ride.
Helmet Sticker ID with QR Code – the stickers are for the more tech savvy but they provide a great emergency ID solution. The pack of 7 stickers can be attached to helmet, bike or mobile phone or even items you want to keep track of such as cycling computer, ear bud case or even glasses case. The unique QR code when scanned with a mobile phone links straight to your emergency ID online record, which we set up and the user activates. The online record enables you to add emergency contacts, medical conditions, allergies and users can add documents and update whenever details change. Not sure how it works? Try scanning the QR code below right.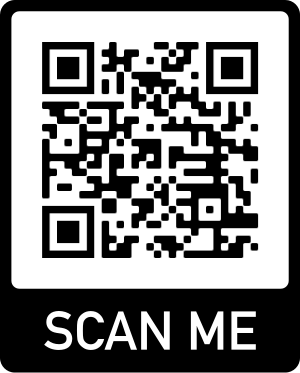 MiniTag iD – these are a set of 3 PVC key tag style tags which are available in a range of colours and can be attached to clothing, saddle pouch, keys or tucked inside your phone case. We have a range of cycling themed designs to choose from. If you are a member of a club an option is for the club to bulk buy in your club colours for their members. Find out more here.
The above products are flexible, affordable and convenient. My basic go to is the helmet sticker and helmet tag which I back up with more detailed information on the OneLife iD Medical Card which I have tucked inside my wallet, phone case or waterproof ride pouch that I take on every ride.
There are additional articles on the best ID products for cyclists, runners, triathletes and those that enjoy the outdoors.