Emergency ID wristbands and Tags in Golazo Cycling Event colours
Whether it is training, racing on the big day or just enjoying life you can wear or carry important emergency, medical or contact information with the innovative OneLife iD cycling and sports ID wristbands and tags used by Team Sky rider Luke Rowe.
Just choose the ID for you, personalize with your choice of emergency details and contacts and ride. View our range below.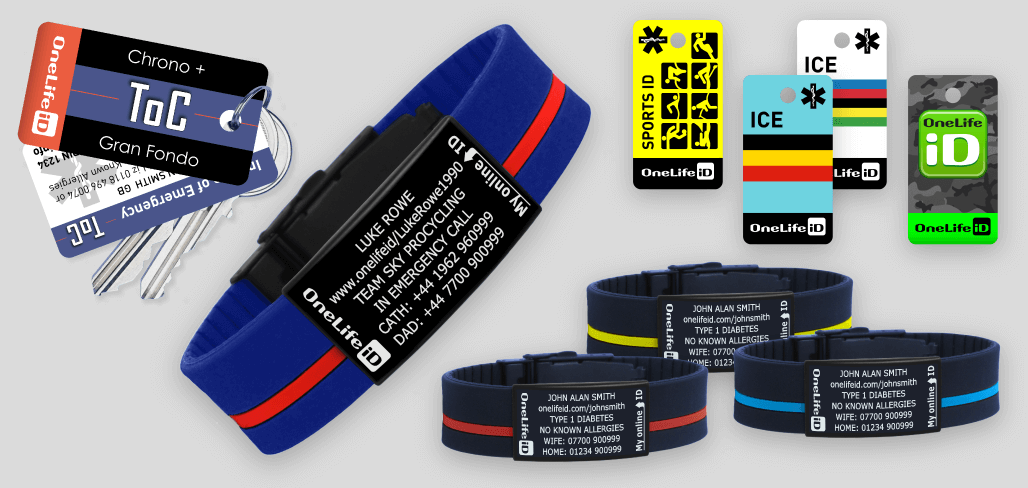 Cycling ID wristband in Gran Fondo event colours. As used by Team Sky cyclist Luke Rowe. Available in UCI Tour of Cambridgeshire Gran Fondo blue with red stripe or a wide range of other colour options to match your kit or bike.

Product & Engraving

Black engraved steel ID Tag & clasp
Adjustable silicon strap with watch clasp
5 lines of text engraving or QR code option

Features

Online profile stores emergency ID info
Mobile Emergency screen & alert sticker

Special Edition Golazo Cycling ID Tag. Emergency ID Tags for UCI Tour of Cambridgeshire Gran Fondo. Ideal emergency ID for training, on the big day and a useful post event memento. Other cycling themed ID tag designs available.

Features

3 PVC ID Tags in range of cycling designs
Personalised with contact details
Durable, lightweight tag with split ring
Attach to kit, bags, clothing, keys
Online profile stores additional ID info
ID alert sticker & mobile screen

In Case of Emergency (ICE) ID wrist strap with NATO nylon strap and black anodised steel ID tag.

Product & Engraving

Personalised black steel ID Tag
Adjustable NATO nylon watch strap
5 lines of text engraving or QR code option

Features

Online profile stores extra emergency ID info
Helmet alert sticker & Mobile ICE screen